Dangerzone 53
Paramecium will defend his World Heavyweight Championship against the man who had betrayed his trust at Redemption 2002, T.W.O. Lightheavyweight Champion Spaz.
Scott Thunder will defend his HaRdCoRe Championship against former HaRdCoRe Champion and Hell's Faction leader Sinsyde.
Arabian Pimpman will have a chance to rescue Sugar Kooky from the evil clutches of the Hell's Faction when he faces Nymphous Fornicate.
These three matches are guaranteed to either make or break the Hell's Faction, and have been building in anticipation week after week. Thanks to the T.W.O. Board of Commissioners these matches and more will take place at Dangerzone 53.
[In the Ring]
Kamikaze came out to the ring challenging for a HaRdCoRe Title shot at Scott Thunder. Scott Thunder came out to the ring to silence Kamikaze.
Scott Thunder: I already have a HaRdCoRe Title defense tonight against Sinsyde. I can't go back on that match because it was made by the T.W.O. Board of Commissioners, and there is no way in hell I'm going to wrestle twice in one night!
Kamikaze: Then let's make the HaRdCoRe Title Match a triple threat!
Scott Thunder: Are you crazy? I can't stand you or Sinsyde, what makes you think that I'm going to fight both of you at the same time?
Kamikaze: I came back to the T.W.O. for the sole reason of wanting to win the HaRdCoRe Championship and becoming a triple crown winner. At Dangerzone 52 I proved I was worthy by defeating Stryknieghn and tonight I want a shot!
Scott Thunder: You only won that match against Stryknieghn because of the outside interference from Bad Boy Barrett!
Just then Stryknieghn came running out to the ring.
Stryknieghn: Where is that little brat?
Kamikaze: I assume you're talking about Barrett.
Stryknieghn: That's right! Where is he?
Kamikaze: How the hell should I know? I'm not friends with him.
Scott Thunder: I thought he was your boyfriend.
Kamikaze: I had nothing to do with his interference in my match against Stryknieghn! He ran in because he has some vendetta with you. (to Stryknieghn)
Stryknieghn: If you see him, tell him he has a match with me tonight! (Stryknieghn leaves)
Scott Thunder: Where were we? Oh yeah, my HaRdCoRe Title defense tonight. Nothing will get me to step in the ring against you and Sinsyde at the same time!
Just then the T.W.O. Interviewer ran out to the ring.
Scott Thunder: Oh what now?!!!
T.W.O. Interviewer: I was just handed this message from the T.W.O. Board of Commissioners and it states that you, Scott Thunder, are hereby ordered to face both Sinsyde and Kamikaze tonight in a triple threat match for the HaRdCoRe Championship. Should you fail to attend this match tonight you will be stripped of the HaRdCoRe Championship and the belt will be awarded to the winner of Kamikaze vs. Sinsyde.
Scott Thunder: THEY CAN'T DO THAT!!!!
Kamikaze: It sounds like they just did.
And the match was made for later this evening.
A triple threat for the T.W.O. HaRdCoRe Championship: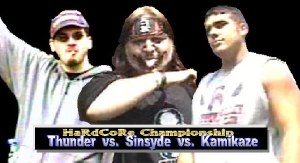 [Backstage]
Arachnid and Stratus were getting ready for their Tag Match tonight.
Arachnid: I can't believe the T.W.O. Board of Commissioners are making you and I team together against Lestat and Santino. What is the reason for that anyway.
Stratus: I was told it's supposed to help the Board decided which of us is more worthy to face Paramecium at Rage Party 2002.
Arachnid: If they want to know which of us would make a better number 1 contender why don't they just have us face each other in a match?
Stratus: My opinion is that Crack-Edd and Arabian Pimpman have been supplying the Board with some illegal merchandise, if you know what I mean.
[In the Ring]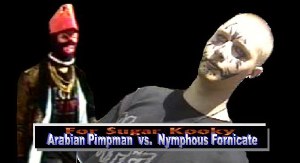 Our first match of the evening began as Arabian Pimpman, one-half of Supply & Demand, took on Nymphous Fornicate of Hell's Faction. Fans had been waiting weeks for this match, as Nymphous Fornicate abducted Pimpman's head hoe Sugar Kooky at Dangerzone 50.
Tonight, if Pimpman wins the match, Nymphous Fornicate must let Sugar Kooky go. All other competitors were barred from ringside during this affair, even Pimpman's tag team partner Crack-Edd, and especially the Hell's Faction.
Fornicate started off by choking Pimpman with his signature gold chains, but Pimpman came back with a kick to Nympho's nuggets. While Fornicate was dazed, Pimpman took off his robe and rapped it around Fornicate's head. Blinded, there wasn't much Fornicate could do.
Pimpman was handed a chair from a fan at ringside and used it to bash Fornicate's brains in. Pimpman was about to finish Fornicate off with a running bulldog onto the chair, but Fornicate reversed it, lifting Pimpman and dropping him back first on the chair.
Fornicate then put Pimpman in a devastating camel clutch, arching Pimpman's already injured back. The pain was too intense and Pimpman passed out. The referee called the bell and awarded the match to Nymphous Fornicate.
Winner: Nymphous Fornicate
Afterward Fornicate announced that he would forever be the master of Sugar Kooky and she would never be released from the Hell's Faction. Crack-Edd came running out to the ring to attack Fornicate, but Fornicate saw him coming and slammed Crack-Edd onto the steel chair as well.
Nymphous Fornicate then walked into the back laughing.
[Backstage]
Zygoplath and Superbman talked about how tonight they would team together to take on the Wrestling Enforcer brothers. Zygoplath and Superbman mentioned that they are both T.W.O. wrestlers from other planets (Zygoplath hailing from Zygoplathia and Superbman hailing from Quipton) and because of this interesting coincidence they are going to call themselves "Out of This World."
[In the Ring]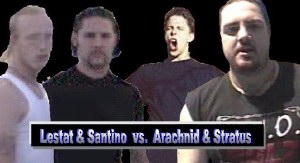 This HUGE tag team match was signed by the T.W.O. Board of Commissioners. The Commissioners decided that in order to better decide which of the 2 competitors (either Arachnid or Stratus) they would place them in a tag team match against one of the T.W.O.'s premier Tag Teams and find which man could cooperate and work better as a tag team.
Going into this match it was obvious that Stratus and Arachnid were not the best of friends. Stratus has won the T.W.O. Heavyweight Championship in the past and would always be considered a worthy contender but Arachnid (a former Hell's Faction member) has had more experience in tag team wrestling so he was the favorite in this contest.
In the end, the lack of teamwork between Arachnid and Stratus did not cost them the match. Instead, Lestat and Santino began arguing when Lestat refused to tag in. Arachnid and Stratus laid waste to Santino, then Arachnid covered Santino for a nearfall. Stratus however, pulled Arachnid off Santino and threw him out of the ring. Stratus slammed Santino and then pinned Santino himself, while Lestat fought Arachnid on the outside.
Winners: Stratus & Arachnid
It is believed that Stratus wanted to make the pin himself because he thought that would prove favorable in the eyes of the T.W.O. Board of Commissioners. It is believed, however, that this had the opposite effect and the Board is currently favoring Arachnid, as he is the one who displayed better teamwork. However, this is only speculation as the Board has not yet released their decision on which wrestler will be the number one contender.
[Backstage]
Paramecium made an announcement that he would like his Title Match tonight with Spaz to be a Title Unification Match, therefore, in the event that Spaz would lose, Paramecium would become the joint T.W.O. World Heavyweight and Lightheavyweight Champion.
The T.W.O. Interviewer asked Paramecium if this would be possible and Paramecium stated, "technically Spaz and I are roughly the same size. We barely qualify for the Lightheavyweight Championship because we are both under 200 pounds. The difference between the 2 of us is that I defend my Heavyweight Title against guys twice my size, while Spaz defends his Title against those his size or smaller."
When asked why Paramecium wanted a unification match he said, "it's only fair. If Spaz wins he gets to keep his Lightheavyweight Championship and get my Heavyweight Championship. If I win, I should be allowed to hold both belts. It would be unfair for my title to be the only one on the line, after all I would have everything to lose and nothing to gain."
It is currently unknown if Paramecium's request would be excepted by the Board but whether it is or not, tonight would prove to be the first time in T.W.O. history that the Lightheavyweight Champion has had a chance to win the World Heavyweight Championship.
[In the Ring]
After Barrett cost Stryknieghn his match at Dangerzone 52, Stryknieghn couldn't wait to get Barrett into the ring.
After Stryknieghn was introduced, Barrett's music played and ring announcer called his name, but nobody came out from the back. They tried again, but Barrett was nowhere to be seen. The referee started counting to ten and said that if Barrett failed to answer the ten count, he would forfeit the match. The referee counted all the way to ten and still there was no Barrett. Therefore, Stryknieghn was proclaimed the winner.
Winner: Stryknieghn
[Backstage]
When Stryknieghn walked into the back he was obviously peeved, because he was unable to take out his frustration on Barrett. Then one of the T.W.O. officials came running up to Stryknieghn and warned him that Barrett was seen out by Stryknieghn's car.
Stryknieghn ran out to the street to see if his car was alright, but found 4 flat tires. Stryknieghn was obviously irate, but Barrett was nowhere to be found.
[In the Ring]
This would be the first time in the T.W.O. that we would see these 2 teams together. Actually, the Wrestling Enforcer brothers claim to have been the twin brothers who wrestled together back in 1997 but this was the first time seeing them in a long time. Superbman and Zygoplath formed the other team, calling themselves "Out of This World." They were definitely a first time duo as they just met at Dangerzone 52 and have never been on the planet at the same time before.
The Wrestling Enforcer bros. requested that everyone refer to them as the new "Law & Order" and the ring announcer corrected his introduction while the commentators made sure to call them by their official team name. (The original Law & Order team were recognized as T.W.O. Tag Team Champions back in 1999)
"Out of This World" had a score to settle with "Law & Order" because of their attack at Dangerzone 52, but both teams were attempting to prove themselves as worthy contenders for the T.W.O. Tag Team Championships (currently held by the Hell's Faction).
In the end, "Law & Order" were able to cheat their way to victory and handcuff their opponents together.
Winners: Law & Order (The Wrestling Enforcer bros.)
[Backstage]
Lestat scolded Santino for losing their match earlier in the evening, while Santino blamed Lestat for refusing to tag in and leaving him to be beaten down 2-on-one.
[In the Ring]
One of the biggest HaRdCoRe Matches in the history of the T.W.O. was about to take place. Sinsyde and Kamikaze, both HaRdCoRe competitors and worthy of a shot would take on Scott Thunder simultaneously with Thunder's coveted Championship on the line.
Sinsyde and Kamikaze were introduced and then when Thunder was announced nobody came out to the ring. It was the second no-show of the night. Per the Board of Commissioners request the match began anyway, with Sinsyde and Kamikaze fighting for the HaRdCoRe Championship in Scott Thunder's absence.
The match started off with a lot of competition on both sides, as either competitor was hoping to capitalize on this opportunity to become the next HaRdCoRe Champion.
After several minutes of intense competition, Stryknieghn came out to the ring looking for Bad Boy Barrett. He yelled at Kamikaze from ringside demanding to know where Barrett was.
Kamikaze: I told you before I have no idea where the hell he is, we aren't friends.
Stryknieghn: You're lying. Where is he hiding?
Kamikaze attempted to ignore Stryknieghn, which proved to be a fatal mistake. Stryknieghn attacked Kamikaze, hoisted him up on his shoulders and gave him the Venom Drop. Stryknieghn then left the ringside area. Sinsyde set Kamikaze up for the patented Lay-Z-Boy DDT.
Just then Scott Thunder came running out from the back and cracked Sinsyde in the head with the Singapore Cain. An unconscious Sinsyde fell backward, giving Kamikaze the Lay-Z-Boy DDT anyway. Scott Thunder then pinned both competitors for the 1-2-3.
Winner: Scott Thunder
[Backstage]
Someone ran up to Arabian Pimpman and told him that Nymphous Fornicate was seen forcing Sugar Kooky into his car. Arabian Pimpman and Crack-Edd ran out to the street to see Nymphous Fornicate speeding away with Sugar Kooky in the back seat.
[In the Ring]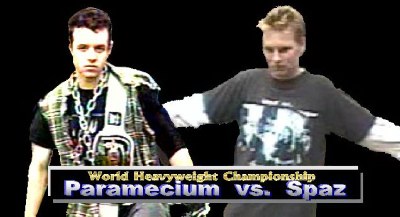 Paramecium and Spaz stepped in the ring ready to make history. For the first time in the history of the T.W.O. the Lightheavyweight Champion would receive a World Heavyweight Championship Title shot. Paramecium had a score to settle with Spaz as well, from Redemption 2002 when Spaz deceived Paramecium and revealed himself to still be a part of the Hell's Faction.
The match began very fast pasted, and with a lot of speedy moves and high flying action this turned out to be one of the most entertaining and well fought World Heavyweight and/or Lightheavyweight Championship matches of recent memory.
In the end it was Paramecium who came out victorious, retaining the T.W.O. World Heavyweight Championship. Afterward, he tried to grab the Lightheavyweight Championship as well but was stopped by the referee who declared that the T.W.O. Board of Commissioners had not sanctioned this to be a Title Unification match.
Paramecium then stated that at Dangerzone 54 he would vow to show the T.W.O. Board of Commissioners who is boss.
Winner: Paramecium
Special Announcement: It was announced that at Dangerzone 54, Arabian Pimpman and Crack-Edd would face the Hell's Faction for the T.W.O. Tag Team Championships.
Up Next...