Rage Party 2002

Rage Party 2002 began as World Heavyweight Champion Paramecium and HaRdCoRe Champion Scott Thunder came out to the ring and announced that tonight would be a memorable night in the T.W.O. as fans would be treated to 7 of the best matches the T.W.O. has to offer. Also, Paramecium noted that his World Heavyweight Title defense tonight against Stratus would be difficult (because Stratus is twice his size) but Paramecium promised he would get the job done just as he had defeated larger men in the past. Then Scott Thunder promised that he would have problem defeating Sinsyde tonight and retaining the HaRdCoRe Championship, "though we've never fought in a singles match before, we all know Sinsyde can't hold a candle to my long list of accomplishments."
With the brief opening statements made, the first match of the night was introduced.
Stryknieghn & Kamikaze have had a storied feud over the last few weeks. Stryknieghn claims to be the better wrestler, yet because of the meddling of Bad Boy Barrett, Stryknieghn has been defeated by Kamikaze twice. Tonight it's winner take all. Which of these 2 big men is the better athlete?
The match began as both competitors matched each other, power move for power move. Kamikaze performed his moonsault off the chair early on, but it was not enough to put away Stryknieghn. Stryknieghn came back with a Taste of Venom. Kamikaze hung in and was able to hoist Stryknieghn into the air and throw him over the fence.
As the referee began counting Stryknieghn out of the ring, from out of nowhere came Bad Boy Barrett. He beat down Stryknieghn with a steel chair attempting to stop him from answering the 10-count. Stryknieghn wasn't finished yet. He wrestled the chair away from Barrett and began beating him senseless. Kamikaze hopped the fence, attempting to come to Barrett's aid, but this action caused the referee to stop the 10-count.
As Stryknieghn and Kamikaze battled in the adjacent yard, Barrett's limp body was hoisted up by officials and carried away.
I one quick motion, Stryknieghn flipped Kamikaze over his head and into the fence. Kamikaze fell to the ground head first with a sickening "crack." Officials held back Stryknieghn as they feared the worse, but Kamikaze slowly made his way to his feet. Stryknieghn pushed his way through officials launched Kamikaze over the fence back into the ring and finished him of with the Restryction.
Winner: Stryknieghn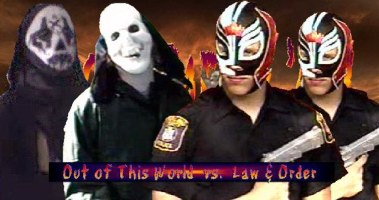 Both teams Out of This World and Law & Order are relatively new to the T.W.O. Superbman and Zygoplath make up the team of Out of This World and only united at Dangerzone 53. Out of This World got it's name because both wrestlers are the only 2 wrestlers in the T.W.O. who are from other planets. Wrestling Enforcer and his twin brother Wrestling Re-Enforcer make up the team of Law & Order. Law & Order actually has it's roots in early T.W.O. days but have not been reunited until a few short weeks ago.
Not only did both teams have a hand in each others formation, but they have been feuding since Dangerzone 52. At Dangerzone 54, Wrestling Enforcer arrested Zygoplath for being an illegal alien. Not just an illegal alien from another country, but from another planet. After Superbman busted Zygoplath out of jail, it was decided that their tag match tonight would determine weather Out of This World would go to jail or remain free.
After all was said and done, fans were treated to an extraordinary tag team restraint match which showcased the talent of both teams and showed why the T.W.O. should be proud of it's tag division. It was Out of This World who came away with the victory at Rage Party 2002, with a superb doubleteam flying body tackle on the Enforcer bros. Out of This World then handcuffed Law & Order together for the win.
Winners: Superbman & Zygoplath - Out of This World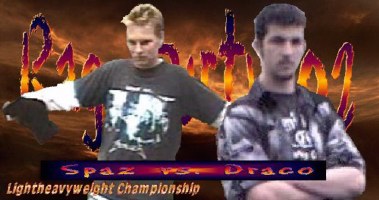 Our next match was the first title match of the evening. Former friends in the Hell's Faction, tonight Draco and Spaz were fighting opposite the ring for the coveted Lightheavyweight Championship. Draco, displeased with his treatment in the Faction walked out on the group at Dangerzone 51. Draco was attacked in the parking lot, while his Hell's Faction cohorts failed to come to his rescue. Draco was all but forgotten until Dangerzone 54 when he cost Sinsyde a chance at the HaRdCoRe Championship. Tonight Spaz hopes to teach Draco a lesson for leaving the group, while Draco hopes to remove the Hell's Faction's last championship belt.
Though Draco fought valiantly, Spaz proved why he is the T.W.O. Lightheavyweight Champion as he beat Draco from piller to fence and retained the belt.
Winner: Spaz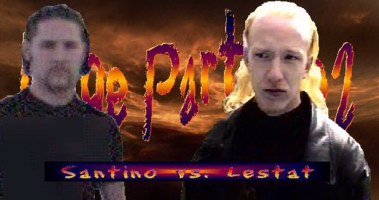 Former tag team, Santino and Lestat ruled the T.W.O. in the earlier portion of 2002 as Tag Champions. Now with failed attempts at regaining the gold and disputes involving issues like whether or not to help other wrestlers search for their lost girlfriends these 2 simply have not been able to hold things together. Both wrestlers have come to the point where they feel their careers would benefit by a run in singles competition. A victory tonight could serve as a launchpad for either to begin a successful singles run.
These 2 know each other so well that fighting each other was like fighting a mirror image of themselves. Both were trained in martial arts and have trained with each other for countless hours in the past. Either wrestler seemed to know what the other was going to do before he did and this made it very difficult to pull off an offensive maneuver.
In the end it was Lestat's experience that paid off, as he simply outlasted Santino and was able to work him down to complete exhaustion. Lestat's finishing blow was the Psychodriver, a move which he and his late brother Armand brought to the T.W.O. over 2 years ago.
Winner: Lestat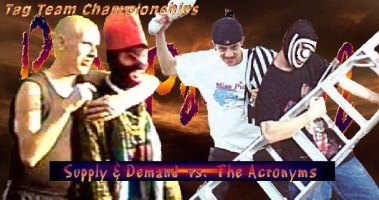 The Acronyms (PAB & DMS) are obviously the more experienced of these 2 teams and have held the tag belts in the past. Supply & Demand however, a relatively new team just won the belts a couple weeks ago at Dangerzone 54. Both teams are respected by the T.W.O. fans, making it hard for those in attendance to cheer for one team over the other.
Dellico DMS brought his weapon of choice (the ladder) as PAB also brought his (the bowling pin). Both teams went toe-to-toe and put on a no-tag, tornado match the likes of which we enjoy in the T.W.O. With bodies and weapons everywhere fans at full alert, knowing full well that a pinfall or submission could take place at any moment.
In the end, Supply & Demand proved themselves as worthy Tag Champions by defeating one of the veteran teams in the T.W.O.
Winners: Arabian Pimpman & Crack-Edd - Supply & Demand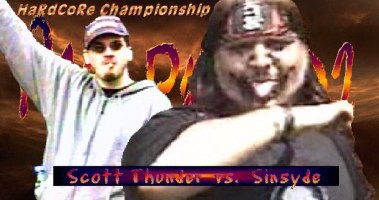 Scott Thunder has always hated the likes of the Hell's Faction, including their leader Sinsyde. It was Thunder who came to the aid of Paramecium at Redemption 2002 when he saw the Faction taking advantage of a 3-on-1 opportunity. If it wasn't for Scott Thunder, Sinsyde may have become the T.W.O. World Heavyweight Champion. Since that day, these two have fought in tag matches and triangle matches but have never fought 1-on-1. Tonight, Sinsyde plans to regain the HaRdCoRe Championship which he held a year ago and bring it back to the Hell's Faction, while Scott Thunder plans to put an end to Sinsyde's dreams and drive a nail through the heart of the Faction.
Due to the nature of the title belt there are no disqualifications. That is why Scott Thunder brought his Singapore Cain into the match and beat Sinsyde with it until it broke. Sinsyde used weapons himself, mostly an old rusty trash can, which he smashed over Scott Thunder's head. At one point Thunder was able to place Sinsyde in the patented figure four leg lock. It seemed as though Sinsyde would be forced to submit.
Just then Spaz and Nymphous Fornicate (the other members of Hell's Faction) came running out to the ring and began beating on Scott Thunder. Paramecium saw what was transpiring on a TV monitor backstage and came running to the ring to help his partner Scott Thunder. Out of nowhere Stratus charged at Paramecium and plowed him over with a vicious clothesline.
As all three members of Hell's Faction beat on HaRdCoRe Champion Scott Thunder in the ring, Stratus held Paramecium back outside of the ring. Sinsyde was able to finish Thunder off with the lay-z-boy DDT and gain the victory.
Winner and new HaRdCoRe Champion: Sinsyde
Stratus had won the number 1 contention at Paramecium's World Heavyweight Championship by defeating Arachnid at Dangerzone 55. In the last match, with Stratus' help, Paramecium's tag team partner Scott Thunder was screwed out of the HaRdCoRe Championship. Now was Paramecium's chance, not only to prove why he is the best wrestler in the T.W.O., but to gain revenge on Stratus.
Paramecium fought his heart out (as is usual) as Stratus attempted to use his size to his advantage. Stratus overpowered Paramecium with every move, but Paramecium showcased his speed and athleticism in trying to best the big man.
After several minutes of back and forth actual, a beaten and bloody Scott Thunder came out from the back. He stumbled toward the ring with a new Singapore Cain in hand, ready to attack Stratus. Stratus saw Thunder coming, lifted Thunder into the air and threw him into the crowd. When Stratus turned around, Paramecium met him with a VanDaminator to the face. Stratus was down and Paramecium jumped onto the fence about to perform the Swanton.
Before Paramecium could leave the fence, Sinsyde grabbed his ankle, causing Paramecium to fall short and smack his face into the ground. Sinsyde then gave Paramecium the lay-z-boy DDT while Spaz and Nymphous Fornicate rolled Stratus over like a beached whale to cover the Champion.
Winner and new World Heavyweight Champion: Stratus
What is with the union between Stratus and the Hell's Faction? To find out you must check out the results to Dangerzone 56, coming soon...