Dangerzone 56
Coming off the heals of the controversial Rage Party 2002 pay per view, fans were interested in finding out if an alliance had been formed between Stratus and the Hell's Faction leader Sinsyde. Sinsyde won the HaRdCoRe Championship with Stratus' help, and Stratus won the World Heavyweight Championship with the help of Sinsyde and his Faction. At Dangerzone 56, fans were guaranteed answers for the questions which Rage Party brought about.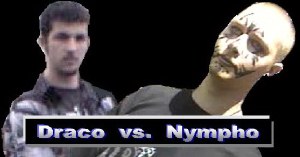 [In the Ring]
Our first match of the evening pitted former Hell's Faction member Draco against current Hell's Faction member Nymphous Fornicate. Though Draco used to be part of the Faction, he hadn't had much association with Fornicate. Actually, Draco left the group shortly after Nymphous Fornicate joined. Part of his reason for leaving was because he felt the new member was getting more attention from Sinsyde. At Dangerzone 56, Draco was given the change to get revenge on Fornicate for taking Draco's place in the Faction.
The match was short but brutal as Draco's hatred for his former Faction friends was still fresh inside of him. Unfortunately, Draco allowed his emotions to get the better of him and a loss of focus cost him the match.
Winner: Nymphous Fornicate
[Backstage]
The T.W.O. Interviewer got a chance to speak with a wrestler whom we hadn't seen in the T.W.O. for several years. His name is Lamirda and he was last seen in the T.W.O. back in 1999. He had returned to his home in Mexico and for the past few years was practicing his craft before being called back up to the T.W.O. to make his return at Dangerzone 56.
The T.W.O. Interviewer asked Lamirda what he hoped to accomplish since returning to the T.W.O. and Lamirda had this to say. "Some Lightheavyweight wrestlers today are attempting to break precedent by competing in higher weight divisions. For myself, that is not the case. I came to breathe new life into the T.W.O. Lightheavyweight division and that is exactly what I will do. I don't care about fighting heavyweights or Olympic gold medallists, all I care about is putting on a good show for the fans of the T.W.O."
With that said it looked like the interview was pretty much over until Dweebo interrupted the proceedings. He yelled at Lamirda for having the same mask and he and demanded that he take it off. When Lamirda refused, Dweebo threatened to rip the mask off. The 2 began fighting and security had to pull them apart.
As we all know, Mexican wrestlers do not like being de-masked. This skirmish caused the T.W.O. Board of Commissioners to immediately sign a match between Lamirda and Dweebo tonight.
[In the Ring]
Our next match saw Acronym member Dellico (DMS) take on recent tag-turned-singles wrestler Lestat. After a few minutes back and forth between Dellico's lucha-libre style and Lestat's martial artistry, Lestat actually grabbed Dellico's ladder from ringside and began beating him senseless with it. The referee then DQ'ed Lestat but Lestat wouldn't stop. Lestat knocked out the referee and then continued to lay into Dellico. Finally, Dellico's tag team partner PAB came to his rescue.
With bowling pin in hand, PAB threatened to knock out Lestat if he didn't cease and desist. Lestat acted as though he was through and just as PAB's guard was down, Lestat attacked him too. It looked as though the ladder wielding Lestat could not be stopped.
Finally Stryknieghn ran out from the back, took the ladder from Lestat and then chased Lestat into the back.
Winner by DQ: Dellico (DMS)
[Backstage]
The T.W.O. Interviewer got a chance to speak with Santino (former tag team partner to Lestat). Santino mentioned that he did not approve of the way Lestat has been treating the other members of the T.W.O. It's as if Lestat has become frustrated with the direction his career has turned (not being able to regain the tag titles) and is taking out his frustrations on everyone else. Unfortunately, Santino was not able to stop Lestat at Rage Party 2002. However, Santino has a chance to tonight to do win his first singles title when he takes on Spaz for the Lightheavyweight Championship. Santino said that he has been training hard and looking forward to tonight and he hopes that Dangerzone 56 would mark the beginning of a successful singles run for Santino.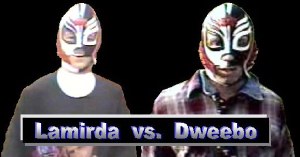 [In the Ring]
Lamirda and Dweebo came out to the ring ready to settle the feud over who would be able to don the white, red and black mask. Both Lightheavyweight wrestlers put on a classic Mexican style match but it was Lamirda who came away with the victory.
Winner: Lamirda
[Backstage]
Kamikaze and Bad Boy Barrett were seen in their dressing room talking about the T.W.O. Board of Commissioners. It appears that the Board has decided that Kamikaze and Barrett would make excellent tag team partners and has already signed a match for them tonight against Law & Order. Kamikaze was obviously distraught, thinking that Barrett's partnership would hold him back. On the other hand, Barrett was enthused to hear of the partnership because he knew that a big guy like Kamikaze would be a good protector.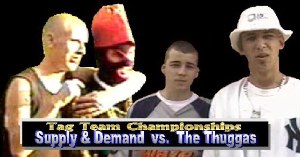 [In the Ring]
Our next match, signed by the T.W.O. Board of Commissioners was for the T.W.O. Tag Team Championships. The Champions, Crack-Edd and Arabian Pimpman - collectively known as Supply & Demand - defended the straps against Natas & Blaze - known also as The Thuggas. The Thuggas, who claim to have held multiple titles in other backyard promotions put on a well fought display. However, the fan favorites of Crack-Edd and Pimpman with the backing of the enthusiastic crowd, were able to successfully defend their championship belts.
Winners: Supply & Demand (Crack-Edd & Arabian Pimpman)
[Backstage]
Former Lightheavyweight champion Allen Vector was interviewed by the T.W.O. Interviewer. When asked what he had been doing the last few weeks, Vector said that he was training and working out so that he could return to the T.W.O. bigger and better than ever before. When asked what his plans were for returning he said that he only had one goal in his immediate future and that is to fight and defeat Spaz in a rematch. He said that his loss to Spaz a few months ago had taken a toll on his psyche and Vector knew that he would have to pull himself together if he was going to get his career back on track. Now Allen Vector hopes to prove to all the fans of the T.W.O. why he is worthy of being remembered as one of the great Lightheavyweight Champions of all time and prove that his reign as the longest Lightheavyweight Champion was not a fluke.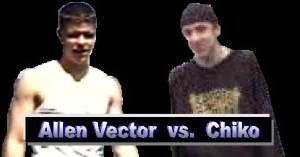 [In the Ring]
A bigger and better Allen Vector silenced his critics when he proved that he is still in the game after defeating Chiko Bombardez in only a few short minutes.
Winner: Allen Vector
[Backstage]
It was announced that Sinsyde and Stratus were on their way to the arena to make an announcement about their involvement in each other's title matches at Rage Party 2002. It was unknown as to whether Sinsyde and Stratus would be arriving in the same limo or separate ones.
Also, it was announced that there still has been no word as to the whereabouts of former champions Paramecium and Scott Thunder.
[In the Ring]
In their first official match as a team, Kamikaze and Barrett (both no stranger to tag action) did not seem to be on the same page. Though Barrett was enthused to have Kamikaze assigned as his new partner, Barrett was not enthused to get into the ring. He spent most of the time on the sidelines rooting on Kamikaze in the hopes that he would not be tagged in and forced to wrestle the Wrestling Enforcer or his brother, Wrestling Re-Enforcer.
After much time in the ring, Kamikaze needed to tag out. Barrett reluctantly tagged in and attempted to wrestle Law & Order. Unfortunately, Barrett cost the match for his team, and a frustrated Kamikaze refused to ever tag with Barrett again.
Winners: Law & Order
[Backstage]
2 matches were signed for next weeks Dangerzone 57. Dellico's tag team partner PAB will face Lestat. Also, Law & Order will be given a Tag Team Title shot when they face the champions, Supply & Demand.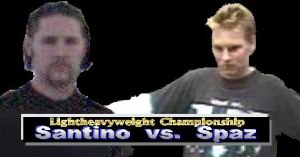 [In the Ring]
Our main event of the evening saw Spaz defending his Lightheavyweight Championship against Santino. Both wrestlers put on a hard fought fast paced match up, but it was because of the singles experience of Spaz that he was able to gain a victory over the older Santino.
Winner: Spaz
[Backstage]
It was announced that Paramecium and Scott Thunder would be present at next weeks Dangerzone 57 but would not be hear tonight. However new HaRdCoRe Champion Sinsyde and new World Heavyweight Champion Stratus had just arrived and were seen on their way to the ring.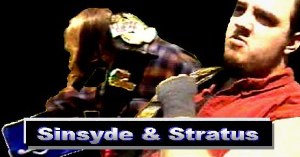 [In the Ring]
It was a strange sight seeing Sinsyde and Stratus coming out to the ring together. Sinsyde, the leader of the Hell's Faction, and the man known for his distrust in others were apparently working together. But why? All our questions would soon be answered.
Sinsyde started by proclaiming that his HaRdCoRe Championship victory was the start of a new day for the Hell's Faction. Now that he held the HaRdCoRe belt and Spaz held the Lightheavyweight, there was nothing the Faction couldn't do. Sinsyde also said, that he knew he would never again be allowed to fight for the World Heavyweight Championship so his only plan was to get the belt off of the evil CEO Paramecium. He didn't care what deals he would have to make as long as he could cause his rival Paramecium to lose the Championship belt which he coveted so dearly.
Then Stratus spoke up. He said that it was apparent that together Scott Thunder and Paramecium would do whatever it took to hold the rest of the T.W.O. down. Much like another wrestler in the WWE, Paramecium and Scott Thunder could not stand to allow anyone other than themselves fight in the main event. There was no way Stratus or Sinsyde would ever receive legitimate title shots. That is, until the T.W.O. Board of Commissioners came along. The Board signed the matches that Paramecium and Scott Thunder were too afraid to sign and now a new era was starting for the T.W.O.
Paramecium and Scott Thunder said that together there was nothing they couldn't do, well now that Sinsyde and Stratus were working together with the backing from the T.W.O. Board of the Commissioners, Paramecium and Scott Thunder have lost all control of their company. Currently, their most hated rivals hold the most coveted belts and there is nothing Paramecium and Scott Thunder can do about it.
Out of nowhere Paramecium and Scott Thunder's music began blaring over the PA. Sinsyde and Stratus looked to the entrance way to see what was going on but saw no one. Stratus yelled into his mic that we would probably never see Paramecium or Scott Thunder ever again, and the T.W.O. would be better for it.
But we would see Paramecium and Thunder again, because from behind the T.W.O. mainstays attacked Sinsyde and Stratus with their signature chain and Singapore Cain. The attack sent Sinsyde and Stratus outside the ring and back toward the dressing room.
Paramecium grabbed a microphone and declared that Sinsyde and Stratus better enjoy their newfound Championships while they can because starting at next weeks Dangerzone 57 they are going to realize that they've just entered the most grueling part of their wrestling careers.
Up Next...