Dangerzone 65
Who will get the World Heavyweight Title shot at Extravaganza 4 against Stratus?
What other last minute matches will be signed for Extravaganza 4?
Anything can happen tonight, at the last Dangerzone before Extravaganza 4...
[In the Ring]
T.W.O. Interviewer: Last week (Dangerzone 64) we saw Cadavor make a surprising appearance during the World Heavyweight Championship match between Stratus and Scott Thunder. Due to Cadavor's presence that match ended inconclusively and many fans were left wondering what Cadavor was doing back in the T.W.O. Ladies and Gentlemen, allow me to introduce to you, speaking publicly for the first time in a year, T.W.O. veteran Cadavor.
Cadavor: I'd like to say that it feels great being back in the T.W.O. I missed everyone during my time away and I promise now that I've returned I will make the most of it.
T.W.O. Interviewer: Obviously your fans missed you a great deal for the past year, could you please tell them what you were doing?
Cadavor: I was actually taking some much needed time away to recover from old nagging injuries and taking time for myself to relax.
T.W.O. Interviewer: Where you always planning on returning, or did you consider retiring for good this time?
Cadavor: The funny thing is, every time I've left the T.W.O. it's been announced as my retirement. Actually I've taken 3 brief sabbaticals from the T.W.O. since joining in 1997 and the only time I actually considered retiring was after the first time I left in 1999.
T.W.O. Interviewer: What was it in 1999 that caused you to consider leaving and what has been different between then and now?
Cadavor: Actually, it came following Extravaganza 1. That was the night I lost the World Heavyweight Championship to Scott Thunder. It was also the night I busted Paramecium wide open with a sheet of glass. I had realized after 2 years in the T.W.O. I had won and lost World Title and helped build the T.W.O. into it's first big PPV event Extravaganza 1. After that night I realized that my time as Champion was over, and I almost seriously hurt the T.W.O. CEO Paramecium. I asked for some time away and they granted it to me. In the storyline they said that I had quit the T.W.O. but really I was taking time to collect my thoughts.
T.W.O. Interviewer: What happened then?
Cadavor: After a few months I saw some film of Dominion faction. They were an evil group which was terrorizing the T.W.O. I was told that their careers were hanging by a thread and I was asked to come in and help give them a swift kick in the ass on their way out. Management felt that by seeing me back in the T.W.O. would take some of the heat off of management for the Dominion getting fired.
T.W.O. Interviewer: And it did help cushion the drastic roster change for the T.W.O. New personalities were quickly introduced which more then filled the void left by the Dominion. But you didn't stick around long did you?
Cadavor: The plan for my return at that point was really short term. I saw the new direction the T.W.O. was heading and I didn't want to hold back any of the new talent. Paramecium brought in a ton of new guys over the period of about 6 months, the T.W.O. websites started, and whole bunch of stuff was happening. I felt it best that I step back and wait until the T.W.O. really had a niche set for me.
T.W.O. Interviewer: A few months later you came back as part of the New Dominion. How did that come about?
Cadavor: The funny thing is, after all these new guys debuted, Paramecium decided to bring back a few familiar faces to kind of mock the old days of the first Dominion. He brought back myself, Demonite and he even got old Dominion member Lord Randolph in on it. Again that was a short term storyline and after it ran it's course, the group split up and Demonite and Lord Randolph were sent packing.
T.W.O. Interviewer: But you stayed this time. Why?
Cadavor: Paramecium told me that he still had a place for me. He turned me into a face and eventually he and I picked up our storyline feud where it left off, when I busted him open with the glass. He and I headlined one of the better PPV's of last year when I challenged him for the World Heavyweight Championship. He won the match, and afterward I realized that my body now needed time to recover from some nagging injuries.
T.W.O. Interviewer: Would you say that you are now back at 100%?
Cadavor: I feel as good now as I did back during my record long World Title run in 1998!
T.W.O. Interviewer: What do you plan on doing now that you're back.
Cadavor: I still have some unfinished issues with the T.W.O. World Heavyweight Championship and I would like to face Stratus for the title at Extravaganza 4! We haven't signed any papers yet, but hopefully T.W.O. CEO Paramecium and his friend Scott Thunder will realize that I am a worthy candidate!
(Just then Scott Thunder's music played and he came walking out to the ring)
Scott Thunder: I don't know who you think you are anymore, but you're career was washed up back in 1998 when I kicked your ass for the World Heavyweight Championship. You've been nothing since then! And if it weren't for your interference last week at Dangerzone 64, I would be the World Heavyweight Champion right now and you would be begging for a Title shot against ME at Extravaganza 4!
Cadavor: I don't care who I fight at Extravaganza 4, just as long as I get a shot at that World Title!
Scott Thunder: If you don't care who you fight at Extravaganza 4, then why did you have to come out during MY World Title shot last week?!
Cadavor: I was scoping out the competition!
Scott Thunder: Oh really?! I think you were there making sure that I didn't win that Title because you're afraid to face me at Extravaganza 4 because you know I'll kick your ass just like I did at Extravaganza 1!!!
Cadavor: That is completely untrue! I'll fight you, Stratus, and anyone else that I have to! All I want is a chance to show that I can still make it as World Champion!
Scott Thunder: It's been years since you last held that belt! What makes you think you still have what it takes?
Cadavor: I feel as good as I ever felt back then if not better! I know I can still go, all I'm asking for is a chance to prove it!!!
Scott Thunder: Well too bad! Because you cost me that match last week you're now on my sh*t list. You don't get any special treatment what-so-ever! In fact, you'd be lucky to get the Jobber Title shot at Extravaganza 4!
T.W.O. Interviewer: Actually Thunder, I'm sorry to interrupt, but I've just been given a message from the T.W.O. Board of Commissioners.
Scott Thunder: What are they trying to screw up now?!
T.W.O. Interviewer: It states that you and Cadavor are being ordered to face each other in singles competition tonight, at Dangerzone 65!
Scott Thunder: Why should I waste my time kicking this has-been's ass?!
T.W.O. Interviewer: Because the winner of your match tonight will receive the World Heavyweight Title shot at Stratus next week at Extravaganza 4!!!
There you have it folks, Cadavor makes his in-ring return to the T.W.O. as he faces old rival Scott Thunder tonight in a number 1 contenders match for Extravaganza 4!
[Backstage]
T.W.O. World Heavyweight Champion Stratus and Sinsyde were talking in their locker room.
Stratus: I can't believe it. Scott Thunder and Cadavor fighting over which one of them gets to have their ass kicked by me at Extravaganza 4!
Sinsyde: I still can't believe the Board of Commissioners granted us that Tag Title shot tonight against the Crazy Bastards. What a match before Extravaganza 4! If we win, we'll turn Extravaganza 4 upside down!
Stratus: The worst that could happen is the Board would force me to defend the World and Tag Titles in one night. That's not a problem. After all, Paramecium said that he would defend his HaRdCoRe Title and face the Tag Champions in one night. If he can have 2 title matches in one night, then I can have 2 title defenses in one night.
Sinsyde: Nobody on their best day could beat you. Not even if you do wrestle in 2 matches.
Stratus: You're damn right on that one!
Sinsyde: Nobody could beat me on their best day either.
Stratus: (Doesn't say anything)
Sinsyde: Right?
Stratus: What? Oh... I, uh... I was just daydreaming about Kristin Kreuk. Did you say something?
Sinsyde: Never mind.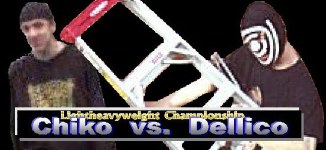 It was last week that due to outside interference, Dellico reluctantly won the Lightheavyweight Championship from Allen Vector. Dellico wanted to return the belt to it's "rightful owner" Allen Vector, however Vector was in the hospital having injuries treated which he sustained in the attack. Dellico decided that for the Board and the fans he would defend the Lightheavyweight Championship until Allen Vector was allowed to return to competition.
Tonight Dellico defended the belt against Chiko Bombardez. Also from Mexico, Chiko and Dellico put on a classic Lightheavyweight Championship match. In the end, Dellico retained the belt in the hopes that he could keep it long enough to return it to it to Allen Vector upon his return.
Winner: Dellico
[Backstage]
Natalya "the She-Devil" runs up to Missy Maniac and asks for her help. Natalya tells Missy that Bad Boy Barrett and Nymphous Fornicate of the AssassiNation were harassing her backstage and attempted to put a move on her. Missy said she knew how Natalya felt, having been harassed by the AssNation in the past a well. Missy agreed to team with Natalya to face the AssassiNation later tonight in a tag match.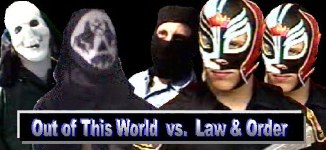 Last week Narc won a special match which crowned him the newest member of Law & Order. Tonight, Narc makes it official in this 3-on-1 handicapped match as Narc and the Wrestling Enforcer Bros. (Law & Order) take on Zygoplath and Superbman (Out of This World).
After several minutes of classic tag team competition, it was T.W.O. Jobber Champion Narc who gained the pinfall on Superbman. Narc and his partners celebrated to their first victory as a trio while Zygoplath and Superbman protested the loss because it was a handicapped match. Superbman declared that in a singles match Narc would never gain a pinfall on him.
Winners: Law & Order
After the match was over and the ring was cleared, it was decided that Superbman and Narc would compete in a singles match at Extravaganza 4 with the T.W.O. Jobber Championship on the line.
[Backstage]
In an exclusive interview conducted at a local hospital Allen Vector announced that he will be cleared to wrestle at Extravaganza 4. However he is not planning on defending the Lightheavyweight Championship. Vector said Dellico could keep the title for now, because at Extravaganza 4 Allen Vector plans on facing Sinsyde in a no-DQ match. And what a match that would be.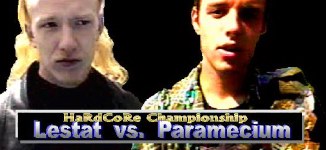 Our next match featured T.W.O. CEO and HaRdCoRe Champion defending his belt against martial artist Lestat. The match was quick and brutal and showcased everything the T.W.O. looks for in a classic HaRdCoRe Match... except for the ending.
Stryknieghn came out to the ring and demolished both Paramecium and Lestat. Neither competitor knew what hit them. Stryknieghn then went into a rant about how management has been overlooking him since his loss to Lestat at our last PPV. Stryknieghn said the loss was a fluke and he will not stand by and watch his career go down in flames because of an incompetent CEO.
It was then announced that Stryknieghn had signed a contract with the T.W.O. Board of Commissioners where he would be facing Paramecium at Extravaganza 4. Paramecium came to and protested the match saying there were much more deserving men who should be given the title shot.
The Lestat piped in saying that he too wanted a match at Extravaganza 4... a rematch with Stryknieghn. That way he could prove their match at our last PPV was not a fluke.
Stryknieghn agreed to both matches, saying that since everyone is volunteering to wrestle twice in one night, he too would put in his name to face Paramecium and then return to face Lestat in 2 matches in one night. His only demand was that his HaRdCoRe Title shot, promised to him by the T.W.O. Board of Commissioners, be the first match he participate in.
And so 2 more matches were signed for Extravaganza 4, Paramecium vs. Stryknieghn and Lestat vs. Stryknieghn.
[Backstage]
The T.W.O. Interviewer had a chance to speak with former T.W.O. Lightheavyweight Champion 'Cunning' Chris. He asked the 'Cunning One' about his plans for Extravaganza 4. Chris said that at that PPV, he would make his return to the T.W.O. after attempting a TV career and he would challenge T.W.O. Lightheavyweight Champion Dellico in the first ever Ping Pong Lightheavyweight Championship Match.
Why a Ping Pong Match and not a typical wrestling match? Lately Chris has been producing TV segments including segments called "Stupid Match of the Day" in these segments 'Cunning' Chris is seen in non-wrestling capacities and that is why he wants his first match back to be a specialty match.
Our next match featured both contestants for the Extravaganza 4 Women's Championship Match on one team. Natalya "the She-Devil" and Missy Maniac will be facing each other at the PPV for the Women's Title but tonight they will be working together to take on the AssassiNation.
Bad Boy Barrett of the Nation asked Missy, before the match began, what was going on. Missy told him that she and Natalya were going to teach them a lesson for harassing Natalya earlier in the night. Nymphous Fornicate chimed in saying that nothing happened earlier and he didn't want any trouble. When Missy asked Natalya, Natalya said "of course they are going to lie about that. Why would they admit to harassing someone?"
The match began and Natalya and Missy appeared to be having a great time beating down the AssassiNation. After a few minutes, things chanced and Natalya turned on Missy, giving her a Stunner and DDT. As Missy lay helpless on the ground Natalya told her, "this is for thinking you can take my title away from me at Extravaganza!"
As Natalya left the ring, Nymphous Fornicate pinned Missy Maniac and planned a big wet kiss on her lips.
Winners: AssassiNation
[Backstage]
T.W.O. Interviewer: I have the exclusive opportunity to speak with the Druid a mysterious backyard wrestler who has just signed a contract to join the T.W.O. at Extravaganza 4. Druid, I'm happy to finally meet you in person and welcome you to the T.W.O.
The Druid didn't say a word in reply.
T.W.O. Interviewer: I'm sorry. Maybe you didn't think I was asking you a question but I was still hoping to get some comments from you. How does it feel to join the T.W.O.?
The Druid again had no reply.
Suddenly the Trash Wrassla's made an appearance.
Jim Bob: I dun know whah yuz spenden' tohm wit' dat' piece oh traysh! Whah not spik wit' a couple o' gize who knows hah to talk?
T.W.O. Interviewer: Excuse me? I don't know what you just said.
Billy Bob: My brudder told yew ta' towk wit' us! We'z the ones wit' tings ta say!
T.W.O. Interviewer: Can we get an interpreter in here, because I have no idea what's going on. I'm talking to a mute and 2 guys who don't know English.
Jim Bob: Heh Billy Bob, wat ya' seah yew und ah learn this here Drud a lesun' in mayners!
The Trash Wrassla's attempted to move this mountain of a man only to find that the Druid doesn't comply with threats. Suddenly things broke down and all three men began battling it out. Security ran in to break up the fight but only after a lot of damage had been done.
It was decided that since both the Druid and Trash Wrassla's would be making their debuts at Extravaganza 4, they may as well fight each other. So another match at Extravaganza 4 was signed, a handicapped match, The Druid vs. The Trash Wrassla's.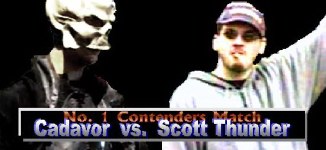 Our next match was a number one contention match, the winner would face Stratus at Extravaganza 4 for the T.W.O. World Heavyweight Championship.
Cadavor and Scott Thunder picked up their feud like it had never stopped. For several minutes both superstars displayed their desire for the World Title Shot. As the match continued, fans knew that neither individual was showing any inkling of slowing down.
Finally after 30 minutes of intense competition, the time bell rang. The ring announcer declared that since this was not a title match, 30 minutes was the longest the match would be allowed to run. With neither individual scoring a victory in that time period, it was decided that both individuals were worthy of a World Title Shot.
Therefore, our World Title Match at Extravaganza 4 would feature a Three-Way-Dance, Stratus vs. Cadavor vs. Scott Thunder.
[Backstage]
T.W.O. Interviewer: I'm speaking with another man who will be making his T.W.O. debut at Extravaganza 4. His name is John Cynic and he is very well respected in backyard wrestling. John, what brings you to the T.W.O.?
John Cynic: The chance to kick ass with other guys my caliber, and the pay.
T.W.O. Interviewer: Are you saying the competition in the T.W.O. is better than that of other organizations you've wrestled in?
John Cynic: Damn right. It seems that everyone in backyard wrestling wished they were in the T.W.O. Finally the Board of Commissioners here have recognized my ass kicking abilities and gave me an offer I couldn't refuse.
T.W.O. Interviewer: Any idea who you will be fighting in your first match?
John Cynic: I've requested that I fight Zygoplath.
T.W.O. Interviewer: Why Zygoplath?
John Cynic: He's so cocky. He seems to think he's the best wrestler in the universe.
T.W.O. Interviewer: You've just described virtually every wrestler in the T.W.O. What makes Zygoplath any different?
John Cynic: He actually is from another planet. In all the wrestling federations I've been to I've never wrestled a real alien before. I mean, I've wrestled Mexicans but not real aliens. At Extravaganza 4 I will show the T.W.O. what I am made of when I kick the green snot out of that freak Zygoplath.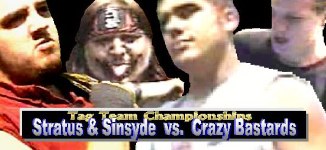 Our main event featured the T.W.O. World Heavyweight Champion and his tag team partner Sinsyde as they took on the T.W.O. World Tag Team Champions Kamikaze and Spaz (The Crazy Bastards). The winners of this match would go on to fight Scott Thunder and Paramecium at Extravaganza 4, in the tag tournament finals.
This match quickly deteriorated into a 4 way brawl. The history between these 4 individuals is too much to discuss here, but what I can tell you is that they tore into each other like nothing I have ever seen before. After several minutes of carnage fans were shocked to see Allen Vector make a surprise appearance.
Allen Vector ran into the match and began attacking Sinsyde, as payback for costing him the Lightheavyweight Championship a few weeks earlier. As Allen Vector lay into Sinsyde, Kamikaze and Spaz worked over Stratus long enough to wind the World Heavyweight Champion.
As Vector left Sinsyde lying bloody and unconscious, Spaz finished off his former Hell's Faction partner for the 1-2-3.
Winners: Kamikaze & Spaz (The Crazy Bastards)
And there you have it, all the matches have now been signed for Extravaganza 4, the biggest night to date in the history of the T.W.O. 3 wrestlers have agreed to wrestle twice that night including Scott Thunder, Paramecium and Stryknieghn.
To check out the complete card for Extravaganza 4 follow the link...
Up Next...