Dangerzone 45
Dangerzone 45: Almost There!
Rain vs. Dellico ( DMS )
The match was fast and furious and neither of these individuals were driving cars.
Dellico looked as though he had the match won when the ladder broke up the count. The referee threatened to have the ladder suspended and fined for unsportsmanlike conduct. As Dellico pleaded with the Ladder to leave the ringside area, the referee began to count Dellico out of the ring.
Dellico was so focused on his argument with the ladder that he failed to acknowledge the referee's count, and was counted out of the ring.
Winner by count out: Rain
Scott Thunder and Allen Vector vs. Arachnid and Crack-Edd
At the HaRdCoRe Pay Per View, in the Semifinals of the Tournament we will see the following matches take place.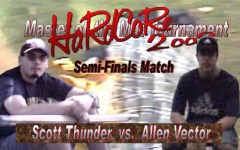 But tonight, at Dangerzone 45 Scott Thunder and Allen Vector will have to work as a team, as will Crack-Edd and Arachnid.
Arachnid started off for his team and Crack-Edd never tagged Arachnid out. Meanwhile Scott Thunder and Allen Vector utilized quick tags and broke down Arachnid. Thunder and Vector proved to be too much for one man and the match was over.
Winners: Scott Thunder and Allen Vector
After the bell was rung, Scott Thunder attacked his partner Allen Vector with the Singapore Cain.
[Backstage]
Stratus walks into Cadavor's dressing room.
Cadavor: Do me a favor, get your fat-ass ready because in under a half hour you're going to have to remove my boat from that ass when I prove to you that I am number one contender.
Superbman vs. Mr. Malicious
Like many of Mr. Malicious' affairs, this match wasted no time in getting out of hand. Mr. Malicious was disqualified when he attempted to use his Hatchet on Superbman.
Winner by DQ: Superbman
Six-Man-War Hells Faction vs. Kamikaze, Lestat & Santino
In probably the biggest 6-man-tag Match in a long time, this match turned out to be far more intense than anyone expected.
In the end, the Hell's Faction were able to pull of the cheep victory over Kamikaze, Lestat and Santino.
Winners: Hell's Faction
[Backstage]
Father Athos accepts Paramecium's challenge tonight. In what could be Father Athos last match (if he loses to Paramecium) could also be the biggest match of his life (if he were to win the World Title).
Cadavor vs. Stratus
In this match, Stratus hoped to prove himself worthy of a World Title Shot at the Pay Per View.
Unfortunately for Stratus, his rival Stryknieghn made his presence felt and cost Stratus his opportunity.
Winner: Cadavor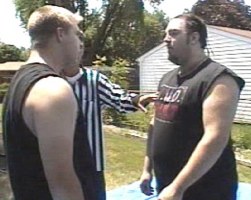 Stryknieghn and Stratus vowed to fight at the Pay Per View.
Tonight's Main Event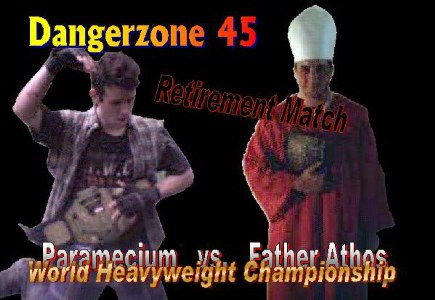 The match got underway, and in no time, fans were screaming in pleasure. Paramecium climbed the fence and delivered a devastating Swanton Dive. Father Athos grabbed a hold of a neckless from a ringside fan with a cross on it, and used it to pound Paramecium in the forehead (attempting to split open his scar).
Paramecium returned with a superplex off the ladder and frog splash from atop the ladder. Father Athos miraculously kicked out. Athos then went for his favorite foreign object, the Atheist Bible. He cracked Paramecium over the head with the Atheist Bible but it had no affect on him.
Paramecium: That could no nothing but make me smarter. Besides Father Athos, you forget that your Bible isn't very thick. It isn't filled with all the BS of the original Bible!
Paramecium fought back, using his chain to tie Father Athos to the tree in crucifying fashion. Then he Van-Damminated him with a flying steal chair kick to the face. Damning Father Athos to a life of retirement.
Winner: Paramecium
Up Next...