Dangerzone 25
[Backstage]
Paramecium is on the phone with Allen Vector who wants to wrestle tonight against Draco but Paramecium says no because he fears Vector's stitches will open up.
[Ring]
Spaz def. Stumpie
[Backstage]
Ogre and Gravedigger happen to bump into Demonite and Lord Randolph and remind them that they will be wrestling later on in a tag match.
[Ring]
Cadavor comes out to the ring to make a challenge to Paramecium to put up his title later on in the evening in a return match from No-Remorse 2000. Paramecium quickly answers the call. Instead of agreeing to a match, Paramecium threatened to fire Cadavor.
Paramecium: The fans of the T.W.O. don't tune in because they want to see you, a FORMER World Champion. The fans tune in now to see a "new generation", if you will, in the T.W.O. They don't want to see old names like Cadavor who refuse to adjust to the T.W.O.'s programming. That just brings down the quality of our broadcasts. And furthermore Cadavor, the wrestlers backstage don't want to put up with your ego. Your constant bickering over your contract, your constant, thinking you're better than everyone else, your constant taking time off and returning to demand a title shot...
Cadavor: What the hell are you doing this isn't part of the script--
Paramecium: Earlier today I had a meeting with all the wrestlers in the T.W.O., a meeting that YOU couldn't find time to attend because of your "busy" schedule. And do you know what happened at that meeting Cadavor? Every single wrestler in the T.W.O. UNANIMOUSLY decided that I should FIRE YOUR ASS right here on live television tonight!!! You see Cadavor, we aren't going to pull any of that "repeat the match from last week's PPV BS" on MY Dangerzone broadcast.
Cadavor: You can't fire me, I'm under contract!
Paramecium: You're right. But what I can do, is force you to sit at home, not allowing you to come to any venue that we visit, not give you any matches or air time, and just sit on your contract until it expires. So Cadavor, please, leave the building and go home, and don't ever disgrace us with your presence again.
[backstage]
Midnight Lightning happens to stumble in on Barrett's dressing room while he is changing.
Barrett: LIGHTNING!!! What the hell are you doing?
Lightning: Oh I'm sorry, I've seen too much!
Barrett: You're damn right you have!
Lightning: Even though there wasn't much to see! HAHAHAHAHAHAHAHAHAHAHAHAHAHAHAHAHAHAHAHAHA!
Barrett: That's not funny you F@&$%*()T!!!!
Lightning: What did you call me?
Barrett: I'm gonna beat your gay ass!!!
Lightning: That's fine with me, ass long ass you put some clothes on first!
[Ring]
Barrett vs. Lighting turns to crazyness when Lightnings freind Stumpy comes to his rescue, followed by Spaz who lays waste to all three of them.
[Backstage]
TGB (Scott Thunder) and DMS (Dellico) the current Acronyms of the TWO say a few words in memory of their dead comrade the SPB after a long battle with Breast Cancer.
Then TGB and DMS announce that in respect for their lost friend, they will not wrestle for the evening.
[In the ring]
Missy Maniac, the T.W.O.'s Women's Champion comes out to the ring to face her opponent for the evening, 'Cunning' Chris. But first Missy grabs a microphone.
Missy: Hey Chris, you know how last year you did that whole 'Cunning' Christine gimmick? Well, I'll tell you what. If you want to go get in drag one more time, we can make this a Women's Title match.
'Cunning' Chris, infuriated at this reference to this past personal, attacks Missy and a crazed rage. He begins pulling her hair, and beating her mercilessly. Natalya runs out of the back and attacks 'Cunning' Chris (her brother) and along with Missy proceed to double team him.
All of a sudden, both Mistress of the Elements, and Jade come running out of the back and to the side of 'Cunning' Chris chasing off his attackers.
[Ring]
Ogre & Gravedigger def. Demonite & Lord Randolph
[Backstage]
DMS in an attempt to win over Scott-TGB's friendship offer's to 'Treat' TGB to a movie and a fun-filled afternoon. When Scott asks him what he is talking about, DMS tells him that he has twenty dollars with a good-time for Thunder written all over it.
TGB: Oh, that's really nice. I'll tell you what. I'll take this twenty, I'll go out and have a night on the town with it. And then I'll give you a call and tell you how it went. OK? Thanx. Bye. (TGB exits)
DMS: Um... OK. Bye Thunder, catch up with you later home-dawg. Viva La Rasa!
[Ring]
Arachnid challenges Sinsyde to come out to the ring and give him a rematch form No-Remorse so he can win back his Hardcore belt. Paramecium comes out to the ring and announces that we will not be re-nigging on the pre-match stipulation that Arachnid vs. Sinsyde would be an end of an era match at No-Remorse 2000. And that there would be no rematch.
Enter Sinsyde: You put up a good fight for this belt last week at No-Remorse, and I wouldn't be a true champion if I didn't give you the opportunity to prove yourself in a rematch.
Paramecium: Oh give me a break. You two are supposed to be wrestlers, not women. Cut out this damn sentimental crap, and put the past behind you, I'll give you both new opponents to wrestle.
Arachnid: No! I want to wrestle Sinsyde, he painted that crap on my face last week and made me look like an idiot in front of everyone, and I want revenge TONIGHT!!! ROOOOOAAAAAAARRRRRRRRRRR!!!!!!!!!!
Paramecium: Well, that sounds a little more like a wrestler, but I will not go back on a promise I made to the fans that last week would be the End-of-an-Era Hardcore Match. It is for those fans that bought our PPV to see that match that I will not just slap a rematch on Dangerzone!
Sinsyde: I'm the Hardcore Champion and I say, give Arachnid the rematch!
Paramecium: Oh for goodness sake, if it will get you two women to stop bickering, then FINE you've got a rematch. But tonight, I will be the special guest referee in the match.
[Backstage]
Mr. Malicious and Kamikaze are arguing about whose fault it was that they didn't win the Tag Belts at the No-Remorse PPV.
[Ring]
Crack-Edd def. Wrestling Enforcer by DQ when Enforcer is caught trying to use his nightstick in the match. Bringing his supposed winning streak to 5-0. Afterward, Enforcer challenged Mr. Crackalishious to a rematch.
[Ring]
Lestat & Armand def. Mr. Malicious & Kamikaze
[Ring]
The Main Event for HaRdCoRe Title, Sinsyde vs. Arachnid w/ Paramecium as guest referee.
Arachnid and Sinsyde had enough of Paramecium's officiating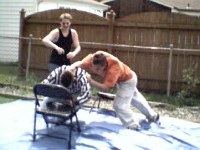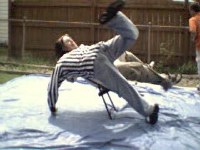 After Arachnid and Hell's Faction attacked Paramecium,
Sinsyde gave him a Lay-Z-Boy DDT.