Rage Party 2000 Results
Women's Championship
Missy Maniac def. Sugar Kooky to retain.
[Backstage]
During the Pay-Preview show, Rain & Stratus attacked Lestat's brother Armand. Now Armand wanted reveng so he attached Rain in the bathroom. Lestat gave Rain a couple power washed swirlies and a DDT into the toilet bowl and left him there.
Spaz vs. Jon the Referee in the Most F---ed Up Match in T.W.O. History.
While Spaz was fighting the referee a new referee had to be put in Jon's place... enter the ladder. And since the ladder couldn't referee alone as it doesn't speak English, it needed an interpreter. An interpreter who knew the ladder better than anybody else... enter Dellico. And would the match be complete without a crazy fan at ringside? Hell NO! Enter "crazy Peurtorican ringside fan".
In the midst of all this madness, Spaz came out the winner.
Sibling Rivalry Match
Natalya "the She-Devil" vs. 'Cunning' Chris
As it would turn out this match did not take place as their brother Paramecium said he would not let them fight. Then Arachnid attacked Paramecium and put him in the devistating "Shark Attack" finisher causing Paramecium to pass out.
HaRdCoRe Championship
Sinsyde def. Cadavor to retain.
Kamikaze def. Bad Boy Barrett
Lightheavyweight Championship
Allen Vector def. Draco to retain.
Following the match, Spaz & Sinyde came out and attacked not only Allen Vector but their own partner in Hell's Faction, Draco. Did this mean they were kicking him out of the group? Suddenly Arachnid came to the ring. Fans thought he was there to protect his brother (Vector) but instead, Arachnid clamped the "Shark Attack" on his brother. It was announced that Arachnid had joined the Hell's Faction.
Clash of the Tag Team Champions

Scott Thunder def. his tag team championship partner Dellico.




Return Match

Stratus returns to def. Lestat, the man who put him out of action.
World Heavyweight Championship
Paramecium def. Arachnid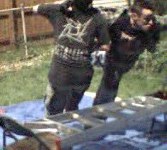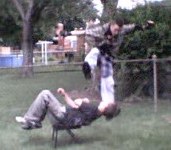 (flying clothesline over the ladder and a super-leg drop off the fence)