Tonight's events are the direct results of
Extravaganza 4
, so if you haven't yet check it out.
The night began as Former World Heavyweight Champion Stratus complained about his controversial title loss at Extravaganza 4. He demanded a World Title shot against new Champion Cadavor, and though he didn't get the match he wanted, he was granted a Number 1 contender's match tonight against Zygoplath. The winner will face Cadavor at next week's Dangerzone 67.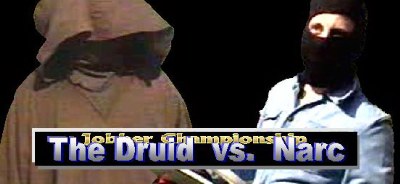 The first match of the evening saw newcomer The Druid take on T.W.O. Jobber Champion Narc.
It was at Extravaganza 4 that The Druid lost his T.W.O. debut match and tonight he would have a chance to gain further humiliation if he were to become Jobber Champion.
Surprisingly, The Druid showed more determination than before as he made quick work of Narc and gained the victory.
Winner: The Druid
Still T.W.O. Jobber Champion: Narc
[Backstage]
Dellico complained of his Lightheavyweight Title loss to 'Cunning' Chris at Extravaganza 4.
Dellico lost the belt in the T.W.O.'s first ever Ping Pong Match.
Dellico argued that because his loss was not in a real wrestling match, that he deserved a rematch tonight. He was granted that rematch with the stipulation that the match would also be a Ladder Match.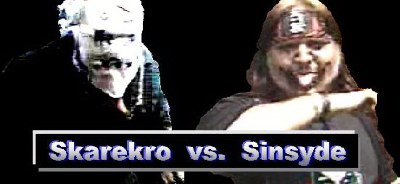 Long-time rivals, Skarekro & Sinsyde have a long history of friction both backstage and in other wrestling organizations. Though these exploits have not been documented much in the T.W.O., they are well known throughout the backyard wrestling industry and tonight these 2 were given the opportunity to hash out their differences in the ring.
In a very brutal match, Skarekro was able to defeat Sinsyde with the help of his tag team partner Skavenger. Though Sinsyde has never thought twice about cheating to win a match, he did not like this instance as this time he was on the receiving end of it.
Winner: Skarekro
[Backstage]
Stryknieghn protested his loss of the HaRdCoRe Championship at Extravaganza due to outside interference by a very pissed off Stratus.
The T.W.O. Board of Commissioners obviously felt sympathy for the former HaRdCoRe Champion because they granted him a re-match tonight.
Dellico and 'Cunning' Chris heated things up with a thrilling Ladder Match, the match that made these 2 famous.
In the end it was The Cunning One who retrieved the Lightheavyweight Championship Belt from the tree, proving once and for all that he could still get it done in the ring.
Winner: 'Cunning' Chris
[Backstage]
Scott Thunder and Paramecium celebrated their Tag Team Championship victory at Extravaganza 4. Due to the impressive victory which Wrestling Enforcer obtained in the Winner-Take-All Trampoline Match at Extravaganza 4, Paramecium & Thunder decided that tonight they would give Law & Order (the Wrestling Enforcer Brothers) the first shot at their belts.
Stratus was determined to gain a rematch at Cadavor, the man who controversially won the World Heavyweight Championship at Extravaganza 4 in the Triangle World Title Match.
Unfortunately for Stratus, he allowed his anger to get the best of him and his violent actions caused the referee to call for a disqualification.
Due to his own actions, Stratus would not receive next week's Title shot and Zygoplath would.
Winner: Zygoplath
[Backstage]
An irate Stratus tore through the backstage area until he was removed from the arena by security.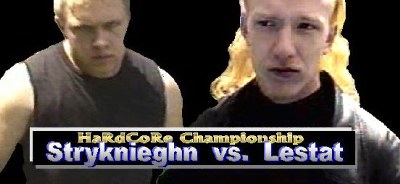 The show steeling match of night featured Stryknieghn and Lestat in a brutal clash for the HaRdCoRe Championship which Lestat won from Stryknieghn at Extravaganza 4. This time, with Stratus removed from the premises, Lestat would have to win the match without the aid of outside interference.
After an impressive display, Lestat defeated Stryknieghn fair and square, proving that he may have been able to win the HaRdCoRe Championship at Extravaganza 4 without Stratus' help.
Winner: Lestat
[Backstage]
In an interview with Zygoplath, Zygoplath was congratulated for his World Title Shot at next weeks Dangerzone 67. It was mentioned that tonight John Cynic would be facing Cadavor for the World Title in the main event. Hypothetically speaking, if John Cynic were to win the World Title tonight he would have to defend that belt against Zygoplath next week. That could be Zygoplath's chance at redemption after his loss to John Cynic at Extravaganza 4.
In their first Tag Team Title defense as new Champions, Paramecium and Scott Thunder demanded to be referred to from now on as The Main Event. They insisted that because either or both of them are usually in the T.W.O.'s main event matches, and because they had now proven themselves as the best tag team ever, they deserved the proper respect.
The Main Event proudly defended their belts against Law & Order but they forgot about the 3rd member of Law & Order - Narc. Narc's interference cost Law & Order the match by DQ. But the loss didn't stop Law & Order from attacking and beating down T.W.O. Tag Team Champions, Paramecium & Scott Thunder.
Winners: The Main Event
[Backstage]
Missy Maniac was being congratulated for her Women's Title victory at Extravaganza 4. As Missy was beginning to make an acceptance speech she was attacked by former Women's Champion Natalya "The She-Devil." As the cat-fight ensued backstage, officials were sent out to pull these women apart. Obviously the war between these 2 women is far from over.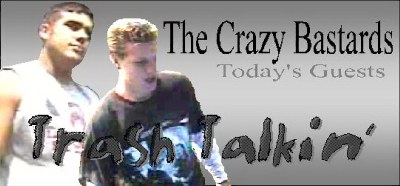 In the T.W.O.'s newest segment, Jim Bob & Billy Bob (The Trash Wrassla's) introduced fans to their new weekly talk segment entitled "Trash Talkin'." The Trash Wrassla's promised that every week they would bring out the person or persons with the most to say. This new forum would give wrestlers an opportunity to express themselves through words, not violence.
The first guests of Trash Talking were former T.W.O. Tag Team Champions, The Crazy Bastards. Kamikaze and Spaz came out to the ring separate, and sat opposite each other with Jim & Billy sitting in the middle as arbitrators.
Fans discovered the reason for this Trash Talkin' segment was mostly for Spaz to bitch at Kamikaze for losing the T.W.O. Tag Team Championships at Extravaganza 4. It was Kamikaze who had been pinned by Paramecium and therefore it was his fault the duo was no longer recognized as the best Tag Team in backyard wrestling.
Kamikaze defended himself saying that Spaz had just as much to do with the loss as Kamikaze. He reminded fans that Spaz was locked in Scott Thunder's figure four, and though he did not submit, Spaz was unable to gain the upper hand on Paramecium & Thunder.
Both wrestlers went round and round before Trash Talkin' turned into an all out brawl. The Trash Wrassla's attempted to break up the fight, but ended up getting their asses kicked in the process.
Afterward we learned that Kamikaze & Spaz would face each other at next week's Dangerzone 67 in a one-on-one match.
[Backstage]
John Cynic expressed his excitement for the World Heavyweight Title Shot tonight. This would be John Cynic's second match in the T.W.O. and already he had an opportunity to become the number one man in backyard wrestling.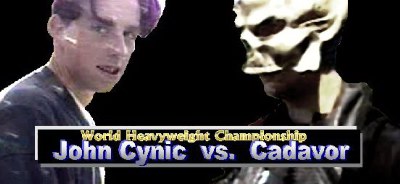 Though John Cynic put up a good fight, it was the backyard wrestling veteran Cadavor who retained the T.W.O. World Heavyweight Championship.
Winner: Cadavor
Up Next...