Last week Arachnid made a surprise appearance after a several month absence. He and his brother Allen Vector doubleteamed Sinsyde, returning the favor from when Sinsyde attacked Allen Vector at Extravaganza 4. Tonight, it was announced that Arachnid would make his in ring return to the T.W.O. when he challenges Cadavor for the T.W.O. World Heavyweight Championship.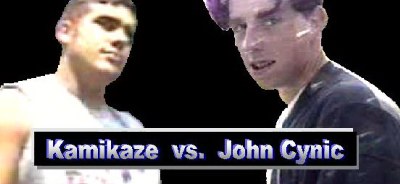 Our first match of the evening saw Kamikaze take on newcomer John Cynic. John had an impressive debut at Extravaganza 4 and tonight was looking to defeat T.W.O. veteran Kamikaze.
It was announced before the match the winner would receive a HaRdCoRe Title shot next week at Dangerzone 69. That upped the stakes and Kamikaze and John Cynic engaged in an impressive and devastating opening match.
In the end it was the fresh blood of John Cynic who defeated Kamikaze. An impressive match for a promising addition to the T.W.O.
Winner: John Cynic
[Backstage]
Last week Stryknieghn fought Skarekro and won the match by DQ after Skarekro's tag team partner interfered on Skarekro's behalf. Stryknieghn was asked how he felt about the match last week and Stryknieghn told the T.W.O. Interviewer that he does not like winning matches by DQ.
Stryknieghn said that he could have defeated Skarekro and Skavenger at the same time had the referee not called for the bell. Therefore he wanted another opportunity to face both men tonight, in a handicapped match. And the match was signed.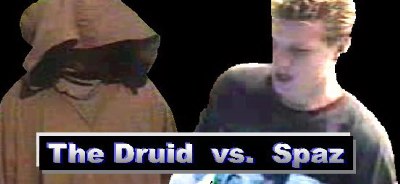 Spaz shocked the world when he turned on his partner Kamikaze at Extravaganza 4. Last week Spaz defeated Kamikaze in a singles match. Tonight Spaz would take on a new, promising, and very mysterious wrestler The Druid.
The Druid made his debut only a few weeks ago but has intimidated many since his arrival. As the bell rang, fans knew Spaz would not be intimidated. Spaz took The Druid to the limit and though The Druid appeared more powerful, Spaz was able to pull out the victory.
Winner: Spaz
[Backstage]
In an exclusive interview Paramecium told fans that he felt ripped off at Extravaganza 4. Sure, Paramecium won the T.W.O. Tag Team Championships with the help of his partner Scott Thunder, but he also lost the T.W.O. HaRdCoRe Championship on the same night.
Paramecium vowed to win back the HaRdCoRe Championship tonight in a match against current HaRdCoRe Champion Lestat.
In an impressive feat of pure athleticism, Stryknieghn fought Skarekro & Skavenger in a handicapped match. It appeared as though Stryknieghn had everything going his way, but it turned out the underhanded doubleteaming maneuvers of Skarekro & Skavenger were too much, even for him.
Stryknieghn lost the match but received a standing ovation from the crowd following the conclusion of the match for his outstanding effort.
Winners: Skarekro & Skavenger
[Backstage]
After successfully defeating the Lightheavyweight Championship against Nymphous Fornicate last week, 'Cunning' Chris thought he had seen the last of Fornicate and his manager Bad Boy Barrett (a.k.a. The AssassiNation)
Bad Boy Barrett, the manager of the Nation asked 'Cunning' Chris if he would be interested in joining the group. Chris remembered this event as being very similar to what happened back in 1998 almost 5 years ago when he was first asked to join the group.
The Lightheavyweight Champion thought about the offer for a minute until Supply & Demand crashed the party. Arabian Pimpman and Crack-Edd (Supply & Demand) had another idea they wanted Chris to join Supply & Demand.
Chris told both teams that he would think about the offer, but The AssassiNation and Supply & Demand wouldn't let things go. They began arguing and threatening each other. It was then decided that the best way to solve this problem would be to hold a good old fashioned tag team match at Dangerzone 68.
(That match will take place later tonight.)
In the end it was Lestat who came away with the gold. The gold which he brought to the dance. Paramecium was disappointed, obviously believing that had he tried harder he could have won back the belt. But there is no need to feel sorry for Paramecium for he is still co-holder of the Tag Team Championships.
Winner: Lestat
[Backstage]
Sinsyde entered the arena and the T.W.O. Interviewer went after him to ask if he was planning to interfere in Arachnid's World Title Shot tonight. Sinsyde said "no," he wanted nothing to do with Arachnid or his brother Allen Vector because they don't fight fair. A real man would face him one-on-one.
Then Spaz came running up to Sinsyde, "I don't know if you remember but when you were the 'leader' of the Hell's Faction, a group a thugs which I am sorry to say I once was a part of, we attacked people 4-on-1."
Sinsyde: That's in the past, I'm above that now.
Spaz: You only say that because your Faction left you. By the way, we haven't been in contact since I left the group a few weeks ago and I was wondering if remember whatever happened to that girl we abducted. You know, Arabian Pimpman's girl. Where has she been?
Sinsyde: Where has she been? She's the only person I have left. She's the first thing I see in the morning and the last thing I see before I go to bed. If it weren't for her I wouldn't have a reason to go on.
Spaz: You mean you still have her held hostage? I thought it was only a temporary thing so we could get the tag titles from Supply & Demand. That was a long time ago. Why haven't you set her free and why hasn't she tried to escape.
Sinsyde: Who said she hasn't tried to escape? But with all the rope and ducked tape she's wearin' she'll never get out of that cage I have her in. She's lucky I still feed her every couple of days.
Spaz: OK, Sinsyde, that's it. Let her go. You've had your fun with her, now let her live her life.
Sinsyde: No! We won her in the match! We own her now!
Spaz: I already have the match signed. You and me, next week at Dangerzone 69. The winner gets Sugar Kooky.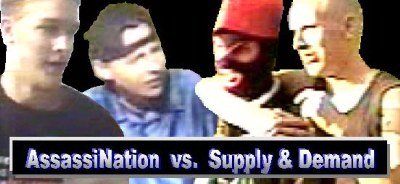 After their confrontation backstage earlier in the evening, The AssassiNation and Supply & Demand fought in a tag team match, to decide which of the 2 teams would make better partners for the Lightheavyweight Champion 'Cunning' Chris.
After a few minutes of back-and-forth action and much cheating on both sides, Supply & Demand came away with the victory. But Chris turned down their offer to join the group.
Nymphous Fornicate grabbed the microphone and commended Chris not only for his successful title defense last week but also for having the guts to go it alone in this demanding sport. Pimpman told Fornicate to stop kissing Chris' ass because Chris would never join a couple homo's like The AssassiNation. A brawl ensued as officials where sent out to break up Nymphous Fornicate and Arabian Pimpman.
Meanwhile Crack-Edd told Chris that if he would not join Supply & Demand and pay them the proper respect that he would take the Lightheavyweight belt in a match at Dangerzone 69 next week. Chris accepted the offer but made it quite clear that if he won or lost the match next week it would cause him to become a member of either team.
Winners: Supply & Demand
[Backstage]
John Cynic congratulated Lestat on his HaRdCoRe Title win against Paramecium earlier in the evening but reminded him that next week, Lestat would be defending his championship against the greatest newcomer in the T.W.O. today, the "fresh blood" John Cynic.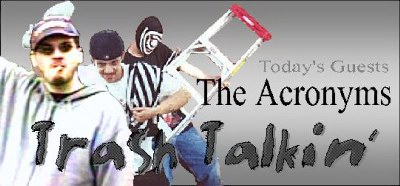 In the now 3rd weekly Trash Talkin' segment, hosted by the T.W.O.'s Trash Wrassla's Jim Bob and Billy Bob, the Bob brothers introduced The Acronyms (Scott T.G.B. Thunder, P.A.B., Dellico D.M.S.) as their newest guests.
As usual the Trash Wrassla's did not know what was going to be discussed on their segment but knew that something was on The Acronym's minds and this would be their opportunity to get things off their chest.
Jim Bob: So, why's you gah's kohm here's?
Scott Thunder: I'm not sure, but I think my Acronym friends are feeling down because Dellico recently lost the Lightheavyweight Championship to 'Cunning' Chris.
Dellico: Viva La Rasa!!!
P.A.B.: Calm down man, he didn't mean it like that.
Scott Thunder: Yes I did.
Dellico: Reeebaaah Mehiko!!!
P.A.B.: What did I tell you backstage? I'm going to handle the talking, you just sid there and stroke your ladder.
Billy Bob: Then wat do yars hafta say?
P.A.B.: Actually Jim Bob--
Billy Bob: Billy Bob.
P.A.B.: What?
Jim Bob: I's Jim Bob.
P.A.B.: I thought you were Billy Bob.
Jim Bob: No, that thar fat piece o' trash is Billy Bob! I's Jim Bob!
Billy Bob: Yew tell that yankee bruder!
Jim Bob: I just did you def bastard!
Scott Thunder: Can we get back to why we're here? I have better things to do than listen to you butcher the english language!
Dellico: Viva La Rasa!!!
P.A.B.: If you don't calm down I'm taking away your ladder!
Dellico: Ariba Mehiko.
Jim Bob: Who bez lettin' that mexeekan in this har ring?
P.A.B.: I did.
Billy Bob: Damn forener, takin' our jobs!!!
Dellico: Ariba Mehiko!!!
Billy Bob: Why doesn't you damn dirty mohekan goes back to where you's come from!
Dellico: Viva La Rasa!!!
Jim Bob: Don' make me whip you boy! I's gonna take yew to the woodshed, if'n yew dun stert shown us them thars popper respect!
P.A.B.: Dellico, I've told you for the last time. We're not here to start a fight with the rednecks. Keep quite so I can tell Scott why we're really here.
Scott Thunder: And why did you bring me here?
P.A.B.: Because we feel that ever since you won the tag team belts with your new partner Paramecium that you've lost interest in being an Acronym.
Jim Bob: That Ahkrymnon is a big werd!
Scott Thunder: I'm sorry if you feel that way but I have new responsibilities now. I can't waste my time with a couple of guys who can't pull their own weight.
P.A.B.: WASTE YOUR TIME?
Scott Thunder: Maybe waste wasn't the right word--
P.A.B.: Well, I'm going to make this easy for you. Either make Paramecium join the Acronyms and the 4 of us can share the Tag Team Championships, or give Dellico and I a title shot!
Scott Thunder: HA! You think you deserve a title shot?!
P.A.B.: The T.W.O. Board of Commissioners has already agreed that if you do not give us a title shot of your own free will, they will grant us one at the next available opportunity.
Scott Thunder: That's bullsh*t!
P.A.B.: No, that's wrestling politics at their finest! And if you have a problem with that you can take it up with the board!
(The Acronyms will challenge Scott Thunder and Paramecium for the T.W.O. Tag Team Championships at Dangerzone 69, stay tuned!)
[Backstage]
It was announced at next weeks, Dangerzone 69, Missy Maniac would defend her Women's Championship in an Extravaganza 4 rematch against former Women's Champion Natalya "The She-Devil."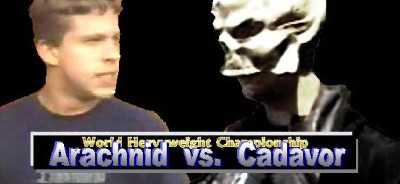 Arachnid proved that he could still go, and surprisingly did not appear to have much ring rust from his T.W.O. absence. The match however belonged to World Champion Cadavor who successfully defended the championship and finished Arachnid off with a tombstone piledriver.
Winner: Cadavor
Up Next...