Before the show began, fans were reminded of the special matches they would be seeing tonight.
After the confrontation between The AssassiNation and Supply & Demand last week, 2 matches were signed for tonight. Nymphous Fornicate vs. Arabian Pimpman and Crack-Edd vs. 'Cunning' Chris for the Lightheavyweight Championship.
John Cynic earned a HaRdCoRe Championship Title Shot against Lestat.
Sinsyde & Spaz would compete over the rights for valet Sugar Kooky.
The Acronyms will challenge Paramecium & Scott Thunder for the T.W.O. Tag Team Championships.
And in the nights main event, Natalya "The She-Devil" will receive a rematch with T.W.O. Women's Champion Missy Maniac.
All that and more on Dangerzone 69.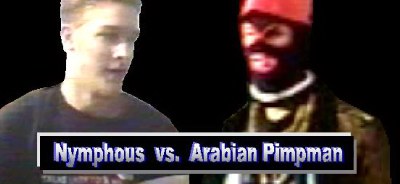 Our first match of the evening was a singles match between AssassiNation member Nymphous Fornicate and Supply & Demand member Arabian Pimpman. Last week both groups fought over the rights to allow Lightheavyweight Champion 'Cunning' Chris join their respective group. Tonight Nymphous and Pimpman would attempt to settle what they started last week.
Early on Nymphous Fornicate attempted to choke Arabian Pimpman with his own golden necklace. Pimpman did not like that very much so he pulled the chain off and began choking Nymphous Fornicate with it. Arabian Pimpman yelled out, "You are a cowardly chicken if you have to use my chain to choke me out! How do you like it when I use your own offence against you? Now I'm choking you chicken, and I don't think you like it very much. Choke chicken choke!"
Then the necklace broke. Both wrestlers continued their battle until Arabian Pimpman gained the upper hand again by kicking Fornicate where the sun don't shine. Pimpman went for the cover and the win.
Winner: Arabian Pimpman
[Backstage]
Crack-Edd who was watching this unfold on a backstage monitor cheered for his friend. T.W.O. Interviewer asked Crack-Edd how he felt and Crack-Edd said that if Pimpman could win his match tonight then Crack-Edd could win the Lightheavyweight Title tonight. This would surely be a big night for Supply & Demand.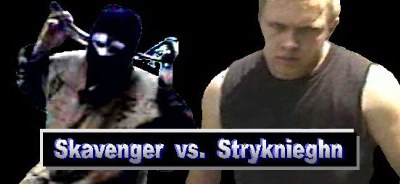 Last week it was Skavenger and Skarekro who defeated Stryknieghn in a handicapped match. Tonight Stryknieghn would have an opportunity at revenge against one of those men when he faced Skavenger in the middle of the ring.
As the match began, a backstage camera saw Skarekro attempt to make his way toward the ring. Then a shadowy figure began to follow him. As Skarekro walked closer to a doorway the door suddenly closed and the lights went out. Some banging noise was heard and when the lights came back on Skarekro was lying tied up on the floor.
In the ring, Stryknieghn was having fun destroying Skavenger in the ring. After a few minutes, Stryknieghn decided to show Skavenger some mercy and pinned him for the win. But who was the mystery man who attacked Skarekro backstage? We'll just have to wait and see.
Winner: Stryknieghn
[Backstage]
Nymphous Fornicate stomped into his dressing room where he saw his manager Bad Boy Barrett.
Fornicate: Why weren't you out there with me tonight? What kind of manager sits backstage while his client is defeated in the ring?
Bad Boy Barrett: I told you I had some business to take care of. I was talking to Lightheavyweight Champion 'Cunning' Chris and he agreed to allow me to come to ringside with him for his Lightheavyweight Title Match tonight. I told him that I would insure that nobody would interfere and cost him the match.
Fornicate: That's great for him but what about me?
Bad Boy Barrett: Look Fornicate, if we want this team to work then we are going to have to work together and trust each other. Alright? I had to talk with Chris to ensure the survival of the AssassiNation. If we can get the T.W.O. Lightheavyweight Champion to join the AssassiNation it will force our critics to pay more attention to us.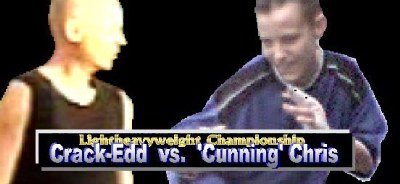 Our next match saw Supply & Demand member Crack-Edd take on T.W.O. Lightheavyweight Champion 'Cunning' Chris with Bad Boy Barrett in his corner.
Chris put on one hell of a fight, but Crack-Edd appeared to be gaining the upper hand. When Bad Boy Barrett distracted the referee, Nymphous Fornicate ran into the ring and clobbered Crack-Edd with a brutal clothesline.
Chris covered Crack-Edd and the referee turned around and counted the pin.
Winner: 'Cunning' Chris
[Backstage]
Sinsyde was seen taking a female figure with a bag over her head out of a car and into his dressing room. Was this Sugar Kooky, the woman we haven't seen for the last couple of months? Stay tuned.
Jim Bob and Billy Bob - The Trash Wrassla's welcomed T.W.O. veteran Mr. Malicious to this weeks installment of Trash Talkin'. Mr. Malicious had not been seen in the T.W.O. for several months due to severe head trauma which put him in the hospital emergency room.
The head injury occurred at Dangerzone 49 when Stratus accidentally hit Malicious in the head with his own axe. Luckily Mr. Malicious' notorious helmet took most of the trauma. Still Malicious was forced to spend the next several months recovering from the shot and regaining full motor functions.
In his interview today, Malicious showed that he has recovered 100% and is looking to face Stratus in a feud match in the near future. This match will allow Mr. Malicious to exact revenge on his former friend for the pain and suffering he put him through.
The Trash Wrassla's reminded Malicious that Stratus is on ring strike until the Big Bad Battle when he hopes to gain a World Heavyweight Title Re-Match. Malicious said that would be fine, except he would see to it that Stratus does not receive that World Title Match. If anyone deserved it after all this time it was Mr. Malicious himself.
[Backstage]
Supply & Demand were pissed due to the method 'Cunning' Chris retained the Lightheavyweight Championship. Did this mean that The Cunning One had joined the AssassiNation. Whatever relationship Chris has with the group, Supply & Demand vowed revenge and challenged The AssassiNation and 'Cunning' Chris to a tag team match next week at Dangerzone 70.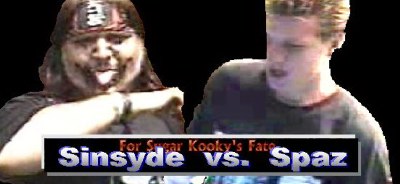 Sinsyde and Spaz used to work together in a team known as the Hell's Faction. When the team was still together they defeated the Arabian Pimpman winning the rights to take his head hoe Sugar Kooky from him. But after the Faction split up, nobody knew what had happened to Sugar Kooky.
Last week Spaz confronted his former mentor in the Faction and demanded to know where she was. Sinsyde said that he had been keeping her captive, sort of like his pet and refused to let her go.
Tonight Spaz and Sinsyde would square off in a brutal feud match as former mentor and student fought for Sugar Kooky's freedom. In the end it was Spaz who defeated Sinsyde with his own maneuver, the Lay-Z-Boy DDT. Sugar Kooky was now free (due to Spaz) and able to decide her own destiny.
Winner: Spaz
[Backstage]
T.W.O. Interviewer asked Stryknieghn who it was who had helped him earlier this evening by tying down Skarekro. Stryknieghn said he would not reveal who it was until he had the individuals permission. Then Skarekro and Skavenger interrupted the interview and demanded to know who it was.
Stryknieghn still refused to comment without the individuals permission and things got ugly. Skarekro and Skavenger brutally began attacking Stryknieghn. Suddenly the lights went out again and when they turned back on, Skarekro & Skavenger were seen lying unconscious and tied up on the ground.
The camera tilted up to reveal a dark figure standing menacingly behind them. It was The Druid!!!
Next week at Dangerzone 70, Stryknieghn & The Druid face Skarekro & Skavenger in tag team action.
Last week John Cynic earned a HaRdCoRe Championship shot at Lestat. Tonight at Dangerzone 69 they put on one hell of a HaRdCoRe Match but in the end it was the more experienced Lestat who came away with the victory.
Winner: Lestat
[Backstage]
The T.W.O. Interviewer caught up with Allen Vector who hasn't been in active competition since his attack at Extravaganza 4. Allen Vector said that he will face Sinsyde in a No Holds Barred Match at Big Bad Battle. This match will make up for the match they were supposed to have at Extravaganza 4 before the brutal attack sent him to the hospital.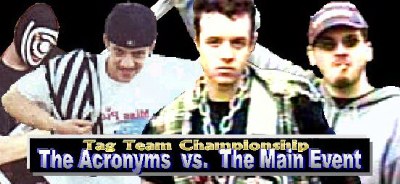 Last week The Acronyms showed their disapproval of Scott Thunder teaming with Paramecium. While Scott Thunder accused The Acronyms of being jealous because he and Paramecium where able to do what the Acronyms wouldn't, regain the T.W.O. Tag Team Championships.
Tonight, at Dangerzone 69 they would face off in Tag Team Title action. The match was a memorable one as former best friends Scott Thunder, P.A.B. and Dellico D.M.S. squared off. After several minutes of quick tags and intense competition Dellico attempted to bring the ladder into the ring. Scott Thunder grabbed his Singapore Cain, Paramecium grabbed his chain, and P.A.B. grabbed his bowling pin, and all hell broke lose.
The referee called for the bell and a double disqualification was announced. It took the entire security staff to pull these 4 individuals apart as it was apparent this feud was not over.
Winner: Double Disqualification
[Backstage]
The T.W.O. Interviewer caught up with Spaz who defeated Sinsyde earlier in the evening. Spaz was being joined by the lovely Sugar Kooky. When asked what their plans were now Spaz said that Sugar Kooky, through her own free will, has decided to become his valet. In one night, here at Dangerzone 69, Sugar Kooky went from being a prisoner, to being set free, and then a valet.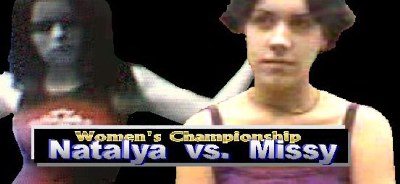 In our main event of the evening, Natalya received a rematch for the Women's Championship which she lost at Extravaganza 4. Missy Maniac put on one hell of a Title defense and in the end proved that she is worthy of the belt.
Winner: Missy Maniac
Afterward Natalya "The She-Devil" promised that she would make a special announcement at next week's Dangerzone 70. What is the announcement? Tune in to find out.
Following the main event, it was announced that Paramecium & Scott Thunder would face The Acronyms in singles competition next week at Dangerzone 70. They would then defend the Tag Team Championships in a rematch at Big Bad Battle under the special stipulation that it be a Tag Team Ladder Match!!!
What other matches will be signed for Big Bad Battle? Find out by reading the results to Dangerzone 70.
Up Next...