The show began as Kamikaze came out to the ring. He said that he had not been given any respect since losing the Tag Team Championships but he demanded a chance tonight to make headlines again. As a former World Heavyweight and Tag Team Champion he only needed 1 belt to become a T.W.O. Triple Crown winner... the HaRdCoRe Championship. He said that if the Board of Commissioners would give him a HaRdCoRe Title shot tonight he would never ask them for another favor again.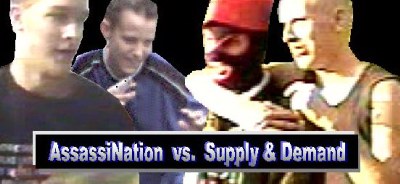 Our first match of the evening saw Arabian Pimpman and Crack-Edd of Supply & Demand take on Nymphous Fornicate of the AssassiNation and his special tag team partner, the T.W.O. Lightheavyweight Champion 'Cunning' Chris.
It was a couple weeks ago when the saga began between The Cunning One, The AssassiNation and Supply & Demand. It all came to a head last week as Arabian Pimpman defeated Nymphous Fornicate in singles competition and 'Cunning' Chris defended his Lightheavyweight Championship against Crack-Edd. The Lightheavyweight Championship match was controversial however, as the AssassiNation helped Chris win behind the referee's back.
Tonight these teams continued their feud, knowing full well that Arabian Pimpman would receive the Lightheavyweight Title shot at our next ppv, the Big Bad Battle 2003.
Bad Boy Barrett accompanied his team (Nymphous Fornicate & 'Cunning' Chris) as the AssassiNation manager. It was Barrett who attempted to distract the referee as Nymphous Fornicate attacked Crack-Edd with a steel chair and then went after Arabian Pimpman.
Pimpman ducked the chair shot, kicked Fornicate between the legs, grabbed the chair and whapped the Lightheavyweight Champion upside the head. Barrett yelled at the referee to turn around and see what was happening, as Pimpman wisely disposed of the evidence.
Pimpman covered Chris as the referee turned around and counted the 1-2-3.
Winners: Arabian Pimpman & Crack-Edd (Supply & Demand)
[Backstage]
Dellico D.M.S. and P.A.B. a.k.a. The Acronyms reminded fans of their hatred for Scott Thunder's new tag team partner Paramecium. They said is Paramecium was not willing to become an official Acronym then they were going to have to teach him and former Acronym, Scott T.G.B. Thunder not to piss of the Acronyms. They would do this in singles action tonight, but would soon receive a rematch for the T.W.O. Tag Team Championships at Big Bad Battle 2003.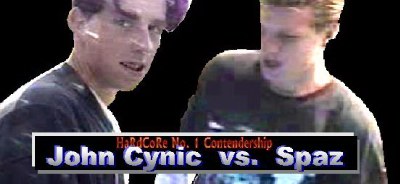 Our next match saw newcomer John Cynic take on T.W.O. veteran Spaz. This match would decide the number 1 contender for the HaRdCoRe Championship at Big Bad Battle 2003.
Though both wrestlers are young and talented, it was Spaz who came out victorious.
Winner: Spaz
[Backstage]
It was announced that the T.W.O. Board of Commissioners will accept Kamikaze's request and give him a chance to become Triple Crown Champion tonight when he takes on Lestat. However, if Kamikaze does not win the belt, he can never ask the Board of Commissioners for any favors ever again.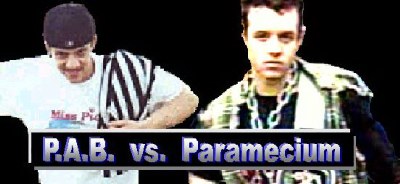 Last week the Acronyms challenged Paramecium and Scott Thunder for the T.W.O. Tag Team Championships. The match ended in a double DQ with the rematch signed for Big Bad Battle 2003. Tonight P.A.B. would have a chance to face Paramecium in singles action and attempt payback on Paramecium for supposedly splitting up the Acronyms.
P.A.B. put on a formidable match, and it wasn't long before P.A.B.'s bowling pin, and Paramecium's chain came into play in this match up. In the end, it was Paramecium's Swanton dive off the fence that won him the match.
Winner: Paramecium
[Backstage]
Natalya "The She-Devil" was ready to make an announcement when World Champion Cadavor interupted. He credited Natalya with creating the Women's Division and said she was a great champion. He then challenged her to face him in an unprecidented intergender match for the World title tonight. Natalya accepted!!!
For the last few weeks Stryknieghn has been involved in a bitter feud with Skarekro and Skavenger. Last week Stryknieghn took on Skavenger in singles competition while The Druid held Skarekro backstage. Without Skarekro's interference, Skavenger lost the match to Stryknieghn.
Tonight, Skarekro and Skavenger would attempt to get revenge on The Druid and Stryknieghn for making fools of them last week. The match quickly deteriorated into an all out brawl. But Skarekro and Skavenger forgot that brawls are what Druid and Stryknieghn do best.
As the referee lost track of which men were legal, Stryknieghn pinned Skavenger and Skarekro pinned The Druid. The referee counted the 3, but even he did not know which team had won the match. As the referee and the ring announcer attempted to decide on who would be announced the winner, all hell broke lose in the ring and officials had to be called out to break these men up.
Winners: Undecided
NOTE: The Druid will face Skarekro in a singles match at Big Bad Battle 2003.
[Backstage]
T.W.O. Women's Champion Missy Maniac did an interview where she wished Natalya luck with her World Title Shot tonight. Missy did say, however, that she would be entering the 2003 Big Bad Battle as the only female participant. Therefore, if Natalya wins the World Title tonight, she could possibly be defending against Missy Maniac at Big Bad Battle.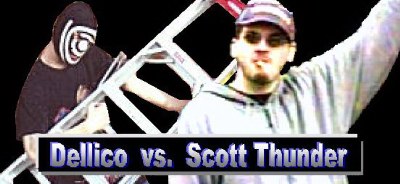 Our next match saw former Acronym members Dellico D.M.S. and Scott Thunder square off in singles competition. Remember Dellico & P.A.B. will challenge Scott Thunder and Paramecium for the T.W.O. Tag Team Championships in a No-Holds-Barred Ladder Match at Big Bad Battle 2003.
Dellico and Scott Thunder eventually went to their weapons of choice. Scott Thunder went for his Singapore Cain and Dellico went for his Ladder. The match quickly deteriorated as the referee attempted to contain the action. Suddenly Paramecium and P.A.B. entered the fray.
All four wrestlers where going crazy, tearing each other up in the ring as referee's attempted to pull them apart.
Winners: Undecided
[Backstage]
Spaz talked about his upcoming HaRdCoRe Title Shot at Big Bad Battle 2003. He said he didn't care if his opponent would be Lestat or his former tag partner Kamikaze. Spaz said he has a history with both men and would equally enjoy kicking the ass of either of them.
Former Women's Champion Natalya the "She-Devil" challenged Cadavor for the World Heavyweight Championship. It was obvious that Cadavor was holding back on Natalya, until she kicked him in the nuts. Cadavor fought back with his famous old-school off the fence. Then finished Natalya off with a tombstone piledriver.
Winner: Cadavor
[Backstage]
Supply & Demand talked about their match from earlier in the evening. Arabian Pimpman said that even though Barrett attempted to cheat for his boys earlier tonight, it didn't work. He went on to say that whatever the AssassiNation attempts to pull at the Big Bad Battle 2003 it won't work because Supply & Demand will be walking away with the T.W.O. Lightheavyweight Championship.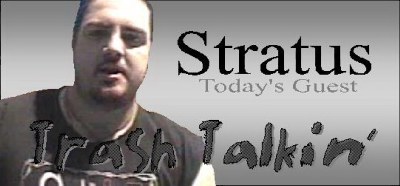 Stratus said that he had a score to settle with Cadavor for screwing him out of the World title at our last ppv.
He then called out Mr. Malicious. Stratus and Mr. Malicious began arguing about Malicious' injury from a few months back. Stratus tried to tell Malicious that it was old news and Malicious needed to get over it. Malicious said that Stratus had cost him several months of his life which he lost by being cooped up in the hospital.
Both men began fighting. The Trash Wrassla's attempted to break up the fight but were quickly flattened. Stratus and Malicious were out of control and it took all the security to pull them apart.
It seems as though with all the fights we've had tonight the Big Bad Battle Match will be hotly contested as 20 T.W.O. Superstars will allowed to fight No-Holds-Barred throughout the entire backyard arena. The only way to be eliminated is to be thrown over the fence into the adjacent yard. This will be a dangerous match which could leave many participants injured. Be sure to check out the 2003 Battle results as this will be the T.W.O.'s final Big Bad Battle event.
[Backstage]
Natalya "The She-Devil" announces that she was pregnant and engaged and retiring from the sport.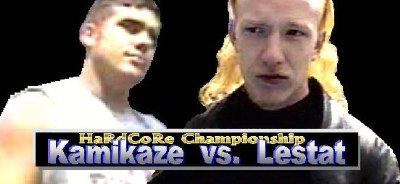 Having held the World and Tag Team Titles in his T.W.O. career, if Kamikaze could win the HaRdCoRe Championship from Lestat tonight, he will become a T.W.O. Triple Crown Champion. The T.W.O. Board of Commissioners agreed to give Kamikaze the shot tonight under the condition that if Kamikaze lost, he could never ask the Board for any more favors.
Lestat was in full form at Dangerzone 70 as he defended his coveted HaRdCoRe Champion against the larger Kamikaze. As Lestat proved, size isn't everything as once again Kamikaze was defeated by a smaller man.
Winner: Lestat
Be sure to check out the results of Big Bad Battle as Spaz challenges Lestat for the HaRdCoRe Championship, 20 men compete for a shot at the World Title, Paramecium and Scott Thunder defend the Tag Belts in a No-Holds-Barred Ladder Match. All this an much more.
Check out