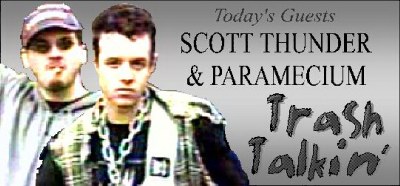 NOTE: This incredibly popular Trash Talkin' segment is brought to you by one of the best tag teams to ever hit backyard wrestling, Jim Bob & Billy Bob, The Trash Wrassla's.
- This notice required by The Trash Wrassla's
This week's guests on Trash Talkin' were none other than the T.W.O. Tag Team Champions the T.W.O. CEO Paramecium and President Scott Thunder. Since reforming their partnership last year, Paramecium & Scott Thunder have defeated every tag team that stood in their way and since winning the belts have successfully defended them against all challengers.
The interview began as Paramecium reminded fans that we would see a contract signing later tonight between Stryknieghn and Spaz. Stryknieghn has become known as The Poison of the T.W.O. after ending the careers of 3 T.W.O. Superstars. Paramecium said it is highly likely that by facing Stryknieghn at our next PPV event, Spaz could be putting his health and career on the line and therefore the T.W.O. will not take any legal responsibilities in this match and are requiring that both wrestlers in essence "sign their lives away" before stepping the ring.
Paramecium & Scott Thunder were then asked by the Trash Wrassla's to talk about Arachnid and Allen Vector. The brothers tag team of Arachnid and Vector challenged Paramecium & Thunder for the Tag Team Championships at our last PPV, with the Champions coming out victorious. Scott Thunder said they did not like the idea of giving Arachnid and Vector a rematch (since they had already been proven unworthy) but because of pressure from the T.W.O. Board of Commissioners, Paramecium & Thunder have decided to give the brothers another chance.
The CEO & President have signed a tag team match later tonight which will give Arachnid & Allen Vector a chance to prove themselves worthy. If they should win that match tonight, they will get a rematch for the Tag Team Championships next week at Dangerzone 84.
Paramecium & Thunder then began bragging about how great of a tag team they were and how they'd defeated all challengers over the last several months. But the Trash Wrassla's were quick to chime in.
"Thar's wun teme yuz'ov nevur faced! Us. Thar Traysh Wrassla's!" said Jim Bob.
Jim Bob was right. Paramecium & Thunder had defended the belts against ALMOST everyone. The only team who hasn't been given a shot are the Trash Wrassla's.
"You guys don't even wrestle," Paramecium said, "you just come out every week and host a talking heads segment. What makes you think you are worthy of a Title shot?"
"We've held ev'ry tahg tahm tahtle south o' the masson dixon lahn and we's fixin' to win arselves the Tee Dubbya Oh Tahtles too!" proclaimed Billy Bob.
"I'll tell you what," Scott Thunder sarcastically said, "if Arachnid & Vector earn that title shot next week, and we beat them once and for all, we'll give you the very next title shot."
"Thot thar's a dun deal if'n I ev'r heard wun," said Jim Bob as he pulled out a pistol a shot it in the air, "if'n thar's wun thang Ahe's lahk more'n bein' in the Enn Ahr Ahe it's'n a tahg tahtle match! Yeeeeehaaaw!"