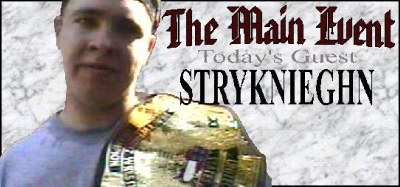 In the first edition of The Main Event, our hosts Paramecium & Scott Thunder interviewed T.W.O. World Heavyweight Champion Stryknieghn. They began the interview by congratulating Stryknieghn on his impressive victory over Spaz at Redemption a couple weeks back. Then things turned sour.
Paramecium criticized Stryknieghn for fighting his little brother 'Cunning' Chris last week. Stryknieghn defended himself, saying that Chris had been the one who petitioned the Board of Commissioners for a title shot.
Paramecium would not accept Stryknieghn's excuse. He said that Stryknieghn should never fight someone who is obviously younger and in a lower weight class like T.W.O. Lightheavyweight Champion 'Cunning' Chris.
Due to minor injuries suffered during the match last week, Paramecium said that he will not allow his brother 'Cunning' Chris to defend the Lightheavyweight Championship until further notice, and Stryknieghn is to blame.
Paramecium also said that he had not forgiven Stryknieghn for stealing his HaRdCoRe Championship at Extravaganza 4 last year and if Stryknieghn was looking for a fight then he found one in Paramecium.
"What are you trying to say?" Stryknieghn asked.
"I'm saying," Paramecium responded, "if you want to prove yourself as World Heavyweight Champion why don't you defend your belt against a true Heavyweight contender, a former 3-time Heavyweight Champion like me!"
"When?" Stryknieghn asked.
"Any time big man!" yelled Paramecium.
Suddenly, music blared over the speakers and Spaz came out to the ring. "While we're talking about title shots, when am I getting my re-match?" Spaz asked, "that was bullsh*t that I lost at Redemption and if given another chance, I know I can win the belt!"
Paramecium & Scott Thunder refused to give Spaz another shot saying that he missed his chance. Then Spaz pulled out a piece of paper, "I was going to give you guys a chance to take the highroad, but you're forcing me to go over your heads. This is a letter from the Board of Commissioners and it grants me a World Heavyweight Title re-match next week at Dangerzone 88."
Scott Thunder: That's fine with us, but what your letter doesn't state, is who will be the referee. Therefore Paramecium, the CEO of this company, will have to choose a fair and impartial official.
Paramecium: And I can think of no better official than the President of the company Scott Thunder.
You heard it here first on The Main Event. Spaz will challenge Stryknieghn for the World Heavyweight Championship next week at Dangerzone 88 with Scott Thunder as special guest referee.