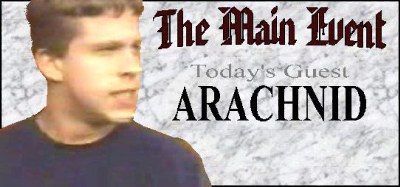 The Main Event is hosted by T.W.O. CEO Paramecium and President Scott Thunder. This week's guest is Arachnid. Brother of HaRdCoRe Champion Allen Vector, who fought Vector at the recent Redemption PPV and was injured during the match.
Arachnid told Paramecium and Thunder that, according to doctor's reports, he is recovering from a dislocated jaw, concussion, and spinal trauma. Though he is expected to make a full recovery from all his injuries, doctors have advised him to spend at least 90 days away from the sport.
Paramecium & Thunder then took a look back at the footage from the match to assess how these injuries took place. According to Arachnid, the concussion and spinal trauma came when Vector attempted to suplex him onto a ladder. Arachnid's lower back struck the ladder, knocking it over, and the majority of his weight then came crashing down on the back of his head.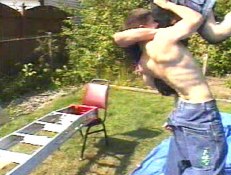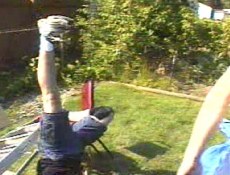 Arachnid's dislocated jaw came later in the match. After Vector had slammed Arachnid onto a makeshift table, Vector proceeded to jump off a chair and come crashing down on Arachnid's chest. Vector's momentum caused him to bounce off Arachnid's chest and come crashing into his jaw. Surprisingly, Arachnid did not lose any teeth.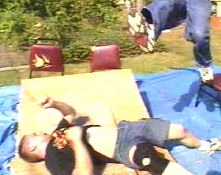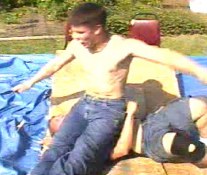 Needless to say, Vector won the match and retained the HaRdCoRe Championship, while his brother Arachnid received medical attention. According to Arachnid, this match caused him a great amount of physical and emotional stress.
Paramecium & Thunder then surprised Arachnid by bringing out HaRdCoRe Champion Allen Vector. Vector apologized to his brother Arachnid, saying that he didn't mean to injure him in the match, he was only trying to win. But Arachnid would not accept Vector's apology.
Vector: What do I have to do to make it up to you?
Arachnid: If you really want to make it up to me, grant me a title shot.
Vector: But I can't do that. You aren't medically cleared to wrestle.
Arachnid: I'm not asking for a title shot for me. I'm asking for my protege'.
Vector: Your what?
Arachnid: There is someone I've been pruning to defeat you for the HaRdCoRe Championship and I am asking that you give him a title shot. Seeing him kick your ass and take that title away, will partially compensate me for the suffering you've caused.
Allen Vector was in shock and didn't say a word. Paramecium & Thunder, interested to see who this protege' was, asked Arachnid to bring him out to the ring.
Arachnid's protege' turned out to be none other than John Cynic.
Arachnid: So... "brother," does he get the title shot or not.
Still stunned, Allen Vector just sat in his chair trying to comprehend what was going on. Paramecium asked Arachnid when he thought Cynic should get the shot, and Arachnid said, "as soon as possible. Maybe tonight."
Paramecium, on the other hand, didn't think that Vector was properly prepared to defend the title tonight and said that if Vector did grant the title shot, he would have to do so when he is ready.
Scott Thunder then turned to Allen Vector and asked, "forget about your brother stabbing you in the back. I'm asking you as President of the T.W.O. will you, sometime in the near future, be willing to put your title up against John Cynic?"
But still Allen Vector would not respond. Instead, he stood up, dropped his HaRdCoRe Championship on the mat and walked off.
Arachnid: Where are you going brother? Aren't you going to be a man and defend your belt like a true HaRdCoRe Champion would?
John Cynic: Hey Vector, I think your forgot something! Are you leaving without your belt?
As Vector walked into the backstage area our resident T.W.O. Interviewer tried to get a word with the HaRdCoRe Champion, "where are you going?" But still Vector would not answer any questions. He walked right through the backstage area, got into his car, and drove off.
Back in the ring, Arachnid, John Cynic, Paramecium & Scott Thunder watched the television monitor as Vector drove off.
Arachnid: Do you know what this means John?
John Cynic: No. What?
Arachnid: This means that you are now the HaRdCoRe Champion by forfeit.
Paramecium: Guys. I don't think that's what it means.
But Arachnid and John Cynic were so happy, that Arachnid hoisted up the HaRdCoRe Championship belt and placed it on John Cynic's shoulder.
John Cynic: Let's celebrate!
Arachnid: There will be wine in my dressing room in a half hour if anyone is interested.