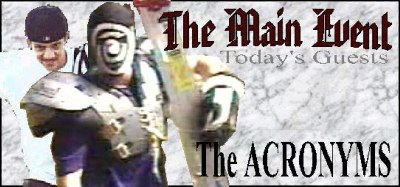 The Main Event is hosted by T.W.O. CEO Paramecium and President Scott Thunder. This week's guests were P.A.B. & D.M.S., The Acronyms. As you probably know, Scott Thunder was once an Acronym, then known as the T.G.B., before he left the group to form a Tag Team Title partnership with Paramecium.
Scott Thunder started the interview by clearing the air and declaring that there were no hard feelings about The Acronyms challenging Paramecium & Thunder for the Tag Titles a few months back. "There's no hard feelings," P.A.B. said, "only because you don't have the belts anymore."
Thunder asked P.A.B. where he disappeared to shortly after getting his ass kicked in that ceiling tile match at the Master of the Mat PPV 2003. P.A.B. said he and Dellico (D.M.S.) decided to take some time off to recoup and await a return to the tag team title hunt.
It was then announced that P.A.B. & D.M.S. would make their return to active competition by challenging for the T.W.O. Tag Team Championships next week against The Trash Wrassla's. (That is, if the Trash Wrassla's can get past their opponents tonight!)
"Well, if we can't be Champions," Scott Thunder proclaimed, "then it may as well be The Acronyms!"
Suddenly, Spaz interrupted.
Spaz: Speaking of who should be Champion... what's the deal costing me my shot at the World Title last week Thunder? You were supposed to be an impartial referee.
Thunder: You attacked me! You can't attack a T.W.O. official!
P.A.B.: You tell him Thunder!
Spaz: You attacked me you son-of-a-b*tch! I would be the World Heavyweight Champion right now if it weren't for your biased officiating!
Thunder: You didn't get the job done last week when I was referee and you didn't get the job done last month when I wasn't the referee! Just face it Spaz, you're not Championship material!
Spaz: And you are? You haven't held the belt in years!
Thunder: You're damn right I'm Championship material, and I will hold the belt again before the T.W.O.'s final year is through, but in 2 weeks at Rage Party, it's going to be Paramecium challenging for the gold. So you'd better just face the fact that you missed your chance.
Spaz: You know what? Forget the World Title for now. I just want a piece of you! I'll worry about another World Title shot after I kick your ass!
Paramecium: Guys! I've got an idea. At Rage Party I'm fighting Stryknieghn for the World Title. But as of right now, neither of you have a match. How about we sign Spaz vs. Thunder at Rage Party?
Spaz: Sounds good to me.
Thunder: Me too.
Paramecium: Good. Then you'll love this next part. The winner receives a World Heavyweight Title shot at our next PPV. That means, after I defeat Stryknieghn at Rage Party, I will put my World Title up against either Spaz or my current tag team partner and long-time rival Scott Thunder.
Thunder: Now that's what I call good booking!
Paramecium: That's why I'm the CEO.
Spaz: Fine. This PPV, I face Scott Thunder. Next PPV I face Paramecium.
D.M.S.: And next week, we face the Tag Team Champions! Viva-Dell-Rasa!!!