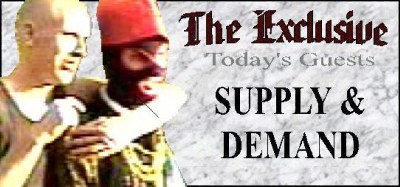 This week's guests on The Exclusive were none-other-than former Tag Team Champions and backstage legends Crack-Edd and Arabian Pimpman (Supply & Demand).
Both men boasted of how they were already established stars in the T.W.O. before becoming a duo and how their partnership was the greatest thing that ever happened to them. Not only because they make a lot of money together but also because of their success in the ring. Winning 2 tag team championships and holding other accolades.
Arabian Pimpman has had one of the longest careers of any T.W.O. Superstar starting all the way back at our very first show in 1997. Back then he was known as The Arabian Rainman but he changed to Arabian Pimpman in 1999 around the same time Crack-Edd made his debut.
Crack-Edd's greatest accomplishment as a singles star came in 2002 when he won his 100th consecutive singles victory.
Together they defeated Hell's Faction for the Tag Titles at Dangerzone 54. A victory Pimpman calls "the highlight of my career." The Faction was a hated group which dominated tag team wrestling for a while because they had 4 partners who were always helping each other win matches.
"It took a special team for 2 guys like us to defeat a foursome like that," added Crack-Edd. They would later lose the belts to Law & Order only to win them back by pinning Law & Order in a triangle tag match.
Even when they don't have a match on the card, Supply & Demand have made their presence known backstage. A place they are always welcome and very popular.
"For the right fee we provide the right service," said Arabian Pimpman.
"And quality is always guaranteed," added Crack-Edd.
Next week at Dangerzone 99, Arabian Pimpman and Crack-Edd will step in the ring once again to challenge for the T.W.O. Tag Team Championships.
On their opponents, "The Trash Wrassla's will be worthy competitors, but we have the advantage in experience," said Pimpman.
If they win the belts, Supply & Demand will defend them proudly for the few remaining weeks left in the T.W.O. If they lose, they promise to never step foot in the ring again. "We still plan to stick around backstage but we have no interest in competing if it's not with the belts around our waist."
Tune in next week to Dangerzone 99 when Supply & Demand challenge for the belts in what could be their last match...