Dangerzone 57
It was at Dangerzone 56 that Stratus and the leader of the Hell's Faction Sinsyde announced that they were working together to take control of the T.W.O. from Paramecium and Scott Thunder. At the end of the event, Paramecium and Scott Thunder vowed to make the lives of Stratus and Sinsyde a living hell.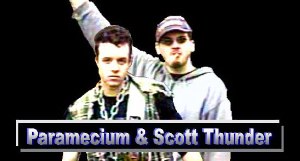 [In the Ring]
Paramecium and Scott Thunder entered the ring, ready to announce their plans.
The T.W.O. CEO Paramecium began. He announced that even though the T.W.O. Board of Commissioners have assumed much control over the booking of matches, the T.W.O.'s next pay per view would be Payback's a B*tch. Paramecium announced that in the spirit of Payback, he and Scott Thunder would show Stratus, Sinsyde and anyone else they didn't like, that revenge is a dish best served cold. Also, because of the tradition set forth from the last Payback's a B*tch, Scott Thunder would be able to sign whatever matches he sees fit.
Scott Thunder took the mic and reminded fans of the last Payback pay per view (almost 2 years ago) and how he signed the first ever: "On With the Clothes Match" for the Women's Championship, "Strap Match of Epic Proportions," "Family Divorce Match," "Sumo Match," and "Mask vs. Mask vs. Mask Match." Scott Thunder said that even though this years Payback pay per view might not have as many outlandish stipulations, wrestlers would get the treatment they deserved.
Scott Thunder announced that in line with the tradition of the Payback pay per view he would be giving himself a shot at World Heavyweight Champion Stratus. He also announced that T.W.O. CEO Paramecium would be given a shot at the HaRdCoRe Championship when he faces Hell's Faction leader Sinsyde. That is of course, assuming that Stratus and Sinsyde are able to keep their titles until then.
Paramecium announced that he and Scott Thunder have decided that because Stratus and Sinsyde won their Championships with such underhanded methods, that they would be forced to prove themselves as Champions by defending against all worthy contenders. That means that tonight Sinsyde will be forced to defend his HaRdCoRe Championship against former Hell's Faction member Draco, and Stratus would have to defend his World Heavyweight Championship against rival Stryknieghn.
[Backstage]
Stratus and Sinsyde arrived at the building just as Paramecium and Scott Thunder were leaving the ring. The T.W.O. Interviewer ran up to them and asked if they'd known they would be defending their belts tonight. Both men looked shocked and said they would refuse comment until after they spoke with the T.W.O. Board of Commissioners.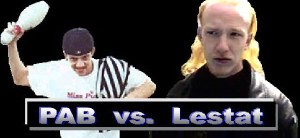 [In the Ring]
Last week is was Lestat who fought Acronym member Dellico. Lestat was disqualified after attacking Dellico with his own signature weapon - the ladder. Tonight Lestat would face Dellico's tag team partner and fellow Acronym PAB.
It wasn't long into the match that Lestat went for PAB's bowling pin. The referee tried to stop Lestat but got a boot to the face. Lestat went back after the pin but was met with a ladder to the face. Dellico was protecting his partner PAB and using any means necessary to keep Lestat from cheating. Even if it meant that Dellico had to cheat for PAB.
Dellico (DMS) and PAB began doubleteaming Lestat and it appeared as thought they had gained control of the match. Lestat fell to the outside of the ring and stole a steel chair from a fan. The fan tried to stop him but he also received a boot to the face. Lestat went back into the ring and dueled with the chair, ladder and bowling pin.
Lestat was able to hit Dellico (DMS) and PAB with the chair knocking the both of them out. The referee can to and not being able to remember how he was knocked out, counted the pin in Lestat's favor.
Winner: Lestat
[Backstage]
Kamikaze and Bad Boy Barrett were discussing their unfortunate situation of having to tag again tonight. Kamikaze made it perfectly clear that he was displeased with Barrett's lack of teamwork last week and said that if there is any chance for the 2 of them to win tonight, Barrett is going to have to get himself back in the game. Barrett said he never left the game and Kamikaze said he hasn't really been in the game since 1998.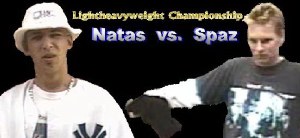 [In the Ring]
The T.W.O. Lightheavyweight Championship was on the line as Natas took a break from Tag Team competition to wrestle Lightheavyweight Superstar Spaz. The match was fast paced and exciting as both wrestlers are young and hoping to carve a notch for themselves in this great sport. In the end it was Spaz who proved himself as Champion and sent Natas packing.
Winner: Spaz
[Backstage]
The T.W.O. Interviewer got a chance to talk to former longest reigning Lightheavyweight Champion Allen Vector.
T.W.O. Interviewer: Allen Vector, you returned at Dangerzone 56 after a brief hiatus. You said that you were training for a comeback and planned to prove yourself in the Lightheavyweight ranks by winning the Lightheavyweight Championship for the second time. We just saw the current Lightheavyweight Champion Spaz defeat yet another challenger for the coveted belt. Do you feel that you are ready to face Spaz again?
Allen Vector: I know I'm ready to face Spaz again. After our match several months at the Big Bad Battle, I knew that I wasn't performing at the best of my ability. I hoped that I could put that loss behind me and segue my career into another division. I did better than what was expected of me in the HaRdCoRe Master of the Mat Tournament but unfortunately I didn't do good enough. I was eliminated in the semi-finals by Scott Thunder.
T.W.O. Interviewer: There is no shame in losing a semi-finals match to Scott Thunder. He has held more championships than anyone else in the T.W.O.
Allen Vector: I know, but I wasn't ready at that point in my career to fight Spaz or Scott Thunder in a rematch and I definitely wasn't ready to take on the then World Champion Paramecium. I decided the best thing for me to do was take a break, train and get myself ready to return when the dynamics had changed a little.
T.W.O. Interviewer: How has the T.W.O. changed since the time you left a few months ago?
Allen Vector: It hasn't changed too much. Spaz is still dominating the Lightheavyweight division and has even proved himself against opponents of higher weight divisions as well. However, there are some major changes in that Paramecium and Scott Thunder are now working together. The T.W.O. Board of Commissioners have become a more integral part of booking. And now Stratus and Sinsyde are the new World and HaRdCoRe Champions. I think the time is ripe for a new Lightheavyweight Champion and I see myself taking the place of Spaz on top of that mountain.
T.W.O. Interviewer: Another Lightheavyweight from the T.W.O.'s past returned at last weeks Dangerzone. What do you think of the return of Lamirda?
Allen Vector: Lamirda has built a reputation on the independent wrestling circuit in Mexico for the past few years and has amassed an impressive fan following. However, he has not stepped in the ring with a Spaz or an Allen Vector. The competition in the T.W.O. is different then that in Mexico and Japan. Though some wrestlers have experience in other venues, that does not mean they are suited to wrestling in the T.W.O. The competition and wrestling style here is different. I feel that I have an advantage over Lamirda, at least in the T.W.O. I have already established myself as one of the greatest T.W.O. Lightheavyweights of all time and don't forget I successfully defended that belt on and off TV for a full year. That is something no other T.W.O. Superstar can say they've done.
T.W.O. Interviewer: Scott Thunder has announced that he will be signing the matches for Payback's a B*tch, the T.W.O.'s next pay per view. Do you believe that this would be a good time for Allen Vector to face Spaz in the biggest Lightheavyweight rematch of all time?
Allen Vector: I definitely think that would be a good time for the match. Though I've been training for a few months now and have built up my agility and muscle mass, I'm still getting back into the groove here. I think after a couple more matches on Dangerzones, I will be in the best of shape and a perfect position for winning back the Lightheavyweight Championship.
T.W.O. Interviewer: You haven't been told this yet, but right before the interview I received a memo from the office of Scott Thunder which said that tonight, at Dangerzone 57 you will face Lamirda.
Allen Vector: Good, I look forward to a contest with our contrasting styles.
T.W.O. Interviewer: That's not all. It also states that the winner of this match will be named number 1 contender for the Lightheavyweight Championship and will face Spaz for said Championship at Payback's a B*tch.
Allen Vector: Does that mean that Spaz will not be defending the belt again until the pay per view?
T.W.O. Interviewer: That's right. Though Spaz will probably have matches at the next 3 Dangerzones, his title defense tonight against Natas was his last until the pay per view. That means either you or Lamirda will face Spaz at Payback's a B*tch.
Allen Vector: What am I still talking to you for? I have to get ready to kick Lamirda's ass.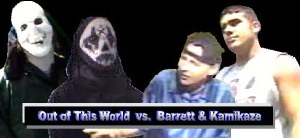 [In the Ring]
Our next match was a tag team match between Out of This World and the unlikely duo of Bad Boy Barrett and Kamikaze. The match was well fought by Zygoplath and Superbman of Out of This World, but it was obvious that the teamwork between Barrett and Kamikaze left a lot be desired.
After Barrett tagged into the match, Zygoplath and Superbman did not allow Barrett back to his corner. While this was perfect tag team strategy for Out of This World, it made it impossible for Kamikaze to tag in. After several minutes of watching his partner getting torn apart, Kamikaze ran in (without a tag) and attacked Superbman.
The referee instantly disqualified Kamikaze and Bad Boy Barrett, and Barrett grabbed onto Kamikaze with an unrelenting thank you hug.
Winners by DQ: Out of This World - Zygoplath & Superbman
[Backstage]
Sinsyde and Stratus were seen in back talking to the T.W.O. Board of Commissioners on the phone. "What do you mean there is nothing you can do? I don't care if Paramecium is the owner of the company, just because he's no longer champion doesn't mean he has authority of the Board of Commissioners in title defenses! Hello? Hello?"
Just then a stage hand entered and told Sinsyde to get ready because his HaRdCoRe Championship match was next.
[In the Ring]
Former Hell's Faction member Draco felt put out by Hell's Faction leader Sinsyde when he was all but replaced by Nymphous Fornicate several weeks ago. Sinsyde claimed to have the best interests of the group at heart, but Draco felt he was getting the shaft. Draco was attacked by anti-Factionists and spent a couple weeks in the hospital. While there, none of his old Faction friends came to visit him. Draco made a pact never to associate with the faction again and vowed to stop at nothing to see that the Faction was destroyed. Tonight he faced his former "leader" in the biggest match of his career.
Unfortunately, his quest for vengeance wasn't enough. Though he displayed valiant effort, Draco was defeated by Sinsyde with the signature "Lay-Z-boy DDT."
Winner: Sinsyde
[Backstage]
Stryknieghn was interviewed by the T.W.O. Interviewer. Stryknieghn said he was grateful for the opportunity to face the World Champion tonight and promised that he would make the most of it. The interview was cut short when Lestat interrupted.
Lestat: Why did they give Stryknieghn the World Title Shot? Because of his feud with Stratus a couple months ago? So what? In 2000 I almost ended Stratus' career with a devastating back injury. If Paramecium and Scott Thunder want someone from Stratus's past to fight him for the World Heavyweight Championship, they should have picked me, not some rookie.
Stryknieghn: I'll have you know, I'm no rookie. I not only have training in the U.S. army but I also have a list of victories in amateur and pro wrestling, including a victory over Stratus.
Lestat: Yeah, a disqualification victory. I've actually pinned the man!
Stryknieghn: If you think that you would be a better opponent for Stratus, then take it up with management. I don't sign matches, I just kick ass. And I don't need weapons to that either.
Lestat: What is that supposed to mean?
Stryknieghn: I think you know what that's supposed to mean.
Lestat: Are trying to start something? What's with you butting in to my business.
Stryknieghn: If I remember correctly, it was you who interrupted my interview moments ago.
Lestat: I'll tell you what. If you walk away right now and allow me to fight Stratus in the main event tonight, then I will forget this ever happened.
Stryknieghn: I'm sorry, but if you want a World Title shot you're talking to the wrong guy. And here's a nickels worth of free advice. Don't interrupt one of my interviews again or I'll make sure you never get a World Title shot.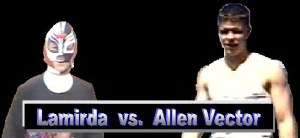 [In the Ring]
Our next match was for number 1 contention at the T.W.O. Lightheavyweight Championship. Both Lamirda and Allen Vector made their returns to the T.W.O. at last weeks Dangerzone 56 and both have the goal of becoming the next Lightheavyweight Champion. Unfortunately only 1 of them can receive the Lightheavyweight Title shot at Payback's a B*tch.
Both Lamirda and Allen Vector put on the match of their careers, proving that the T.W.O. Lightheavyweight Championship is just as well contested as any Lightheavyweight belt in WWE or the old WCW.
In the end it was the former Longest reigning Lightheavyweight Champion Allen Vector who came out victorious over the Mexican superstar Lamirda. Therefore it will be Allen Vector who will face Spaz once again, with the Lightheavyweight Championship on the line at Payback's a B*tch.
Winner: Allen Vector
A promotional video was produced by the T.W.O. Video Productions Department promoting the Lightheavyweight Match to take place at the pay per view. To view the promo click
here
.
[Backstage]
In a brief interview Spaz expressed his interest in fighting Allen Vector once again at the pay per view. "However," Spaz said, "the Payback's a B*tch is still a few weeks away and Allen Vector will have to stay in one piece until then if he hopes to dethrone the greatest Lightheavyweight Champion of all time."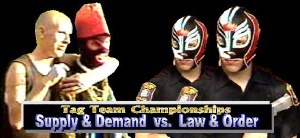 [In the Ring]
The Tag Team Championships were on the line as Supply & Demand defended against the Wrestling Enforcer twins, referred to as Law & Order.
The match was a classic one as both teams have much experience in the T.W.O. and both are worthy of the Tag Belts. However, it was the doubleteaming of Law & Order behind the referee's back which caused them to win the match. After Wrestling Enforcer gained the pinfall on Crack-Edd, Law & Order handcuffed Crack-Edd and Arabian Pimpman together and warned them to clean up their act. If they refused to become respectful citizens, then the righteous duo of Law & Order would have to arrest Supply & Demand and bring them to justice.
Winners and New T.W.O. Tag Team Champions: Law & Order
[Backstage]
Speaking of promos, a video tape showed up at the T.W.O. video truck with a note. The note expressly ordered the T.W.O. to play a promo for a wrestler known as Skarekro. That note only said that this video served as a warning to the impending debut of Skarekro and it did not say where or when this debut would take place. After a call was placed to the T.W.O. Board of Commissioners, it was decided that for sake of everyone's safety, the video would be played for T.W.O. fans.
To view the Skarekro promo click
here
.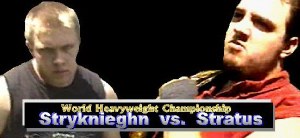 [In the Ring]
The main event for Dangerzone 57 began as 2 of the biggest, baddest beasts in the T.W.O. made their way to the ring. It was obvious that there was still friction between these 2 and that their hatred for each other hadn't diminished. It only needed fuel to re-fire the feud.
After a few minute of intense competition Lestat felt compelled to enter the arena. Lestat sat at ringside while Stryknieghn and Stratus continued to battle it out. Finally, Lestat made his move, attempting to attack Stryknieghn. But Stryknieghn saw him coming and applied his finishing maneuver the Taste of Venom.
As Lestat lay motionless on the mat, Stratus attacked Stryknieghn from behind and gave him a devastating StratusSlam!
Winner: Stratus
[Backstage]
Paramecium and Scott Thunder said that tonight was only the beginning and it would take a miracle to keep the championships around the waists of Stratus and Sinsyde.