Dangerzone 60
[In the Ring]
Dangerzone 60 began as Scott Thunder and T.W.O. CEO Paramecium came out to the ring to make a few statements about the upcoming Payback's a B*tch pay-per-view. Scott Thunder reminded everyone that he would be signing the matches for the event and no one else.
Scott Thunder said that he will challenge Stratus for the T.W.O. World Heavyweight Championship. Allen Vector will challenge Spaz for Lightheavyweight Championship. And Scott Thunder's tag team partner Paramecium will challenge Sinsyde for the T.W.O. HaRdCoRe Championship.
With the three major title shots out of the way, Scott Thunder revealed what he hoped would take place at Payback's a B*tch. Scott Thunder announced that he has repeatedly attempted to contact Natalya "the She-Devil," the T.W.O.'s current Women's Champion. Natalya has not defended the Championship in months and Scott Thunder was hoping that his pay-per-view would be the site for the return of the Women's Championship. Since that wasn't going to happen, Scott Thunder announced his "Plan B." Missy Maniac, a former T.W.O. Women's Champion, has not only agreed to make her return at Payback's a B*tch, but she will be here tonight, at Dangerzone 60.
As far as other matches for Payback's a B*tch. Scott Thunder said that he is searching tonight for a formidable opponent for Midnight Lightning's Jobber Championship. He also expects Skarekro to make his on camera/in ring debut. And 2 Superstars who have been causing each other a lot of torment in recent weeks will duke it out at the pay-per-view... Stryknieghn and Lestat.
Paramecium announced that we wouldn't have to wait until Payback's a B*tch to see Stryknieghn and Lestat in the ring together, because tonight they will be forced to work as a team to take on Los Compadres. Also tonight, Supply & Demand would have to defend their Tag Team Championships against former champions Out of This World.
Then a telegram was brought to the ring, addressed by the T.W.O. Board of Commissioners. The note stated that since Paramecium and Scott Thunder have not competed in weeks, they would be forced to fight in tag team competition tonight or risk losing their title shots at Payback's a B*tch. Their opponents would be Stratus and Sinsyde.
[Backstage]
T.W.O. Interviewer: I'm being joined by Rain and T.W.O. Jobber Champion Midnight Lightning. Last week, Rain defeated Midnight Lightning in a Jobber Championship match. Why did you guys request an interview?
Rain: As you saw last week, 2 wrestlers came together and formed a tag team. Those wrestlers were Chiko Bombardez and Lamirda. They said that they have been overlooked in the singles division and they wanted a chance to make a name for themselves in the tag team division. Well, my friend Midnight Lightning and I are in the same predicament.
Midnight Lightning: Don't get me wrong. I'm proud of my Championship Belt but I never get the chance to defend it! The CEO and the Board of Commissioners rarely give me a chance to showcase my abilities. Well, when Rain and I show what we are made of in tag competition tonight, then we will start getting the attention we deserve.
T.W.O. Interviewer: The Jobber Championship is nothing to be proud of. It says that you are the worst wrestler in the T.W.O.
Midnight Lightning: You're just jealous because you don't have a championship belt.
T.W.O. Interviewer: So what will you be calling yourselves now that you are a tag team.
Rain: We aren't changing our names. We're calling ourselves Rain & Lightning.
[In the Ring]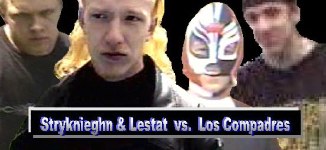 Stryknieghn and Lestat have been trying to outdo each other for weeks now. Now forced to compete in tag competition they would have to work together. Los Compadres were excited after their tag debut victory at last weeks Dangerzone 59 and hoped that tonight they could prove that last weeks victory was not a fluke.
It was obvious that Lamirda and Chiko were starting to gel as a team and quick tags and coordinated double-team maneuvers were used a lot in this match. However, the power and experience of Stryknieghn and Lestat appeared to be too much.
After a few minutes of tagging back and forth, Stryknieghn decided that he wanted another breather and went to tag Lestat back in. Lestat was not very receptive to the tag, as he proceeded to kick Stryknieghn in the head! Stryknieghn fell backwards into the ring, while Lestat headed backstage. Lamirda covered for the pin and Los Compadres celebrated victory no. 2.
Winners: Los Compadres
When Stryknieghn awoke, he stated that he couldn't wait to get his hands on Lestat at Payback's a B*tch.
[Backstage]
In an interview segment Superbman & Zygoplath, the team known as Out of This World protested their loss of the tag belts last week. They proclaimed they should still be tag champions because they were never pinned. In last weeks Tag Team Championship match, Out of This World defended their belts in a triangle tag title defense against both Law & Order and Supply & Demand. Due to a loophole in the rulebook, Supply & Demand was able to pin Law & Order to win the belts. Tonight, Out of This World would have a chance to redeem themselves by facing Supply & Demand in a Tag Title rematch.
[In the ring]
Missy Maniac made her first appearance in months as she came out to the ring to fight Dweebo in an arm-wrestling match. Dweebo thought arm-wrestling a woman would lead to an easy victory. Dweebo was surprised to find that Missy is stronger than she looks, as she toppled Dweebo right on his ass!
Fans cheered for Missy as they were glad to see her back and in good shape. But the celebration wouldn't last long as Dweebo attacked Missy from behind. "You may have won at arm-wrestling, but you won't win a real fight! I'll see you at Payback's a B*tch!" yelled Dweebo.
Winner: Missy Maniac
Apparently, Dweebo and Missy Maniac will fight each other in a real wrestling match at Payback's a B*tch.
[Backstage]
The Thuggas, Natas & Blaze talked to the T.W.O. Interviewer about their recent run in with Skarekro and Skavenger. Last week when Skavenger was fighting Blaze in singles competition, Natas ran in and the Thuggas proceeded to beat down Skavenger. After they returned to their dressing room, Natas said they had found another doll, this time in Natas' gym bag. As they were trying to figure out who had gotten into their locker room during the match, the lights went out.
They said the next few minutes was a blur until they were woken up by EMT's. Natas said that it couldn't have been Skavenger because he could have never recovered from his beating that fast. Therefore, it must have been Skavenger's friend Skarekro who attacked them. Now tonight Natas will face Skarekro in one-on-one competition.
[In the Ring]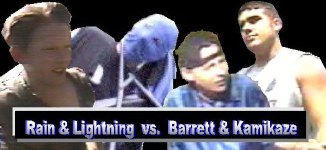 Rain & Lightning were anxious to begin their new career as a team as they stepped in the ring with Barrett and Kamikaze. Barrett and Kamikaze were still having trouble meshing as team and it showed. Barrett spent most of the time outside of the ring cowering like a baby, while Kamikaze stayed in the ring fighting off both opponents.
Barrett started complaining of a nose bleed which distracted the referee. As the ref was checking to see if Barrett was alright, Rain & Lightning attacked Kamikaze with a steel chair. The referee turned around just in time to count Midnight Lightning's pin on Kamikaze.
Winners: Rain & Lightning
[Backstage]
T.W.O. CEO Paramecium and his partner in crime Scott Thunder were watching on a monitor in the back as Kamikaze was pinned by the T.W.O. Jobber Champion Midnight Lightning. Scott Thunder proclaimed that since Payback's a B*tch was HIS pay-per-view, he would sign another Championship match. Kamikaze vs. Midnight Lightning with the Jobber Championship on the line.
A wrestler must lose the match to be proclaimed T.W.O. Jobber Champion. That is how we ensure the belt stays around the waste of the worst wrestler in the T.W.O. Since Kamikaze was pinned by the Jobber Champion in a tag match, the title was not able to switch hand. However, if Midnight Lightning pins Kamikaze again at Payback's a B*tch, then the title of T.W.O. Jobber Champion will go to Kamikaze.
After the announcement of the new match signing for Payback's a B*tch, Paramecium and Scott Thunder announced that their tag team main event match tonight would now be a six-man-tag. Allen Vector would join the match on the side of Scott Thunder and Paramecium, while Stratus and Sinsyde would be joined by Spaz.
[In the Ring]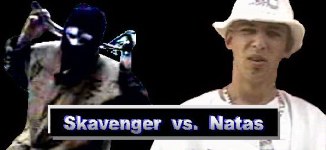 There was a lot of bad blood between Skavenger and Natas, and it showed in their hard-fought match. Meanwhile, backstage, Blaze was staying in the Thuggas' dressing room waiting for the guy who keeps putting the dolls in their gym bags. When this person, suspected to be Skavenger, would arrive Blaze would beat him down with a baseball bat.
Blaze watched on the monitor in his dressing room as Skavenger put away Natas for the 1-2-3. A disappointed Blaze figured that their ingenious plan was ruined. Then Blaze heard the doorknob begin to turn. Blaze assumed his position, hold the bat firmly with both hands. As the door opened, Blaze swung the bat as hard as he could. The person walking through the door didn't know what hit them - BAM!!!!!
Blaze looked down to find that the person he clocked with the bat wasn't Skarekro at all. It was the janitor.
Winner: Skavenger
Skarekro is sleighted to make his debut at Payback's a B*tch. We have just been told that Skarekro and Skavenger will be competing in a tag team match at the pay-per-view and their opponents will be Natas & Blaze. To view the promo for Skarekro's debut, click
here
.
[Backstage]
Allen Vector was getting ready for his tag match tonight as T.W.O. Lightheavyweight Champion Spaz walked by. Spaz told Vector he'd better watch his back in the tag match tonight because 6-man tags tend to get a little out of hand and he wouldn't want to see Allen Vector taken out of action before he was able to fight Spaz at Payback's a B*tch for the Lightheavyweight Championship.
[In the Ring]
This match was a chance for Out of This World (Superbman & Zygoplath) to regain the T.W.O. Tag Team Championships. Out of This World lost the belts in a triangle tag match last week when Supply & Demand pinned Law & Order.
Fans were split on who to root for in this match, as both teams are favorites among many T.W.O. viewers. In the end it was Supply & Demand who retained the belts with a double pinfall on Out of This World.
Winners: Supply & Demand (Crack-Edd & Arabian Pimpman)
[Backstage]
Stratus, Sinsyde & Spaz were seen prepping for their main event match tonight against Scott Thunder, Paramecium & Allen Vector. Though these guys have been put through hell by Scott Thunder & Paramecium, and even forced to wrestle each other, they agreed to work cohesively tonight and take out their competition before the pay-per-view.
[In the Ring]

Probably the biggest main event in the history of the T.W.O., the biggest names in all of T.W.O. competition today stepped in the ring for one big match, including one team comprised of the T.W.O. Lightheavyweight, HaRdCoRe, & World Heavyweight Champions). It was decided before the match began that this would have to be an orderly match WITH tags.
Allen Vector and Lightheavyweight Champion Spaz started things off. These 2 hadn't stepped in the ring together since their memorable match at Big Bad Battle 2001. After giving fans a preview of their upcoming war at Payback, they tagged out to Paramecium and Sinsyde.
Sinsyde has been a thorn in Paramecium's side since forming the Hell's Faction and attempting to take over Paramecium's company. Now Sinsyde has something Paramecium wants, the T.W.O. HaRdCoRe Championship. At Payback, Paramecium and Sinsyde with face each other in a No-DQ, HaRdCoRe match with the title on the line. They showed fans what they can do without weapons, but just wait until they get tables, ladders and chairs in their hands. They eventually tagged out to Scott Thunder and Stratus.
Scott Thunder and Stratus began their feud at Redemption '98, when Stratus challenged Thunder for the T.W.O. World Heavyweight Championship for the first time. Now, over 4 years and many brutal encounters later, the feud between these 2 has yet to be settled, and now the roles are reversed. At Payback, Scott Thunder will challenge Stratus for the T.W.O. World Heavyweight Championship.
Tags began moving a lot quicker and double-teaming was becoming more frequent. Even a second referee at ringside could not contain the action. It wasn't long before things spilled outside the ring and all 6 wrestlers were battling at once! Fans and neighbors clamored for safety!
Despite the mayhem, Sinsyde was able to pull Allen Vector into the ring and deliver his patented Lay-Z-Boy DDT, while Stratus and Spaz fought off Scott Thunder and Paramecium on the outside.
Winners: Stratus, Sinsyde & Spaz